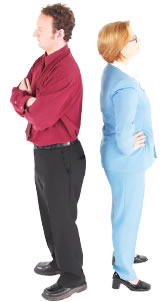 Indie publishers are everywhere and so are indie bookstores, but apart from their names, the two have little in common. "Independence" is a feelgood concept, but it's often presented without any reference to that which a publisher or bookstore is independent from. Therein lies the difference. Does "independent" really mean anything in today's publishing world?
Independent publishers are independent from the Big Six publishing establishment, but not being affiliated with six entities isn't much of a distinction. For publishers, independence comes with a price. After writing, indie publishers must work independently with editors, designers and printers. They must make their own arrangements with distributors of print and ebooks. Perhaps most importantly, they must independently assess whether books they have a great personal stake in are viable products. Indie publishing isn't better or worse than traditional publishing. There's much to be said for having someone else push your manuscript down the long road to bookstores and there's much to be said for cutting out the middleman and keeping creative control over your work.
Indie publishers generally sell books to niche audiences in lower volumes. They usually offer one or just a handful of books. Unlike big publishers, they aren't able to circulate and promote hundreds of books until they find a blockbuster that pays for all the ones that don't sell, but they are often positioned to make a profit with very low sales volumes.