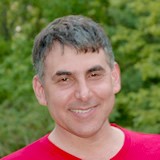 I'm Dave Bricker: author of fiction and nonfiction, (occasional) editor, graphic designer, interactive developer and MFA design educator. I help writers turn well-crafted manuscripts into beautiful, high-quality books. My website offers straight talk for writers about producing and marketing excellent books, eBook technology, book design, typography, writing, literacy and the publishing business.
Originally named OneHourSelfPub.com (after my self-publishing book), this site is now called TheWorldsGreatestBook.com. That's what serious writers and publishers are trying to accomplish.
Thank you for reading. Enjoy your publishing journey.
—Dave Bricker