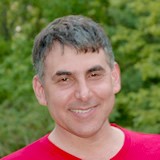 I'm Dave Bricker,

MFA: author, editor, graphic designer, interactive developer, and design educator. I help writers turn well-crafted manuscripts into beautiful, high-quality books. My website offers straight talk for writers about producing and marketing excellent books, eBook technology, book design, typography, writing, literacy, and the publishing business.
Thank you for reading. Enjoy your publishing journey and get in touch if you want help making your book excellent.
—Dave Bricker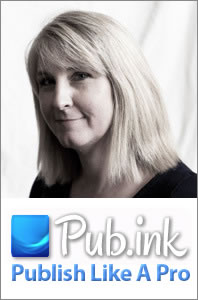 My friend Toni Ressaire over at Pub.ink offers a reliable source for self-publishing straight talk. Her latest email newsletter offers useful insights about print vs. eBook trends, the importance of mobile-friendly author sites, and more. Consider how to best use evolving social media to market your book. New channels like Periscope offer opportunities for authors to build communities around their work. Are you building an email list yet? Toni offers a strong list of sound strategic marketing ideas.
Toni addresses web-based eBooks on her blog, and shares two webinars we did together that demonstrate my own PubML eBook technology. PubML empowers you to make your own beautiful eBooks for the web with WordPress, and it also exports to ePub format which can be uploaded to Kindle for conversion or posted directly to eBookseller sites.
Add Toni Ressaire at Pub.ink to your list of publishing resources, and be sure to subscribe to her mailing list.
3 views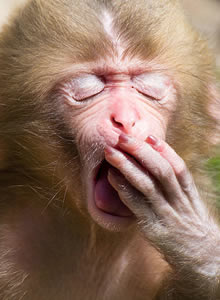 The host announces the next author. She walks to the lectern, offers a synopsis, and begins reading aloud. It's not bad prose—and I can't say that for every writer here—but after three pages of preface and another six of chapter one, I fantasize about ringing a gong and approaching the stage with a shepherd's crook. I pretend to look interested and engaged, but that train jumped the track ten minutes ago. How can this well crafted writing become such an anesthetic when read aloud? This article offers tips for reading aloud that will help you keep listeners' attention.
Why Reading Aloud Fails
According to ReadingSoft, the average adult reads prose text at 250 to 300 words per minute. The best readers consume over 1000. In its guide to Reading Aloud, The Science Fiction and Fantasy Writers of America suggests that 150 words per minute is a suitable pace for reading aloud. In other words, the best and most efficient way to transfer ideas from author to reader is by distributing printed words on paper. If you want to share text exactly as you wrote it, hand out printed copies. Why read aloud if audience members can consume your work faster and focus on it more deeply on paper?
134 views
contributed by Nicole Stansley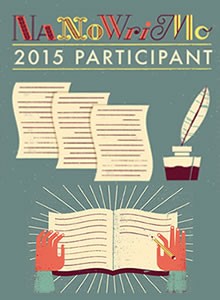 November is National Novel Writing Month and National Lifewriting Month. It's stuffed with writing events that engage and excite beginners and skilled authors alike.
November 1–30, National Novel Writing Month (NaNoWriMo). The goal is to write a 50,000-word novel by the end of the month. Register on the NaNoWriMo website and give your novel a title—two simple steps. You cannot write your novel on the website, but it is possible to submit an excerpt.
The NaNoWriMo initiative involves gamification (earning achievement badges for submissions), lists numerous local events, and connects you with communities that inspire and support your creative writing efforts. Don't underestimate the power of those meetings; I personally wouldn't have been able to finish my writing last year without community support and advice. And if you are a writing master, you will be warmly welcomed at local events. Subscribe to the Writing Advice newsletter. Last year such respected authors as Neil Gaiman, Jim Butcher, and Garth Nix shared their thoughts. Continue reading →
24 views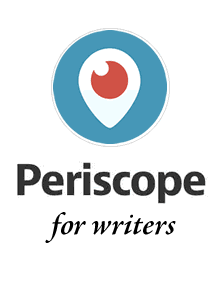 If you have your hands full with Twitter, Facebook, Pinterest, LinkedIn, and other social media channels, you won't want to hear about Periscope. Owned by Twitter, Periscope is an app for Android and iOS devices that allows live video streaming. It received ten million followers in its first week of operation. And because your Periscope account is connected to your Twitter account, it's easy to let your followers know about your Periscope broadcasts.
Unlike podcasting or video blogging, Periscope is raw, informal, and personal. Periscopers jump on and talk to the camera while viewers send comments and questions, and "hearts" of approval.
"Scopes" are archived for 24 hours and then they disappear unless they're archived by special software or subscription services. Toward that end, TheWorldsGreatestBook.com is now offering a "Writing Scopes" page that archives the broadcasts of "scopers" who speak on the subjects of writing, publishing, and book design. Know of a Periscope you'd like to see archived here? Are you using Periscope to promote a book or build an author platform? Talk about it in a comment below.
28 views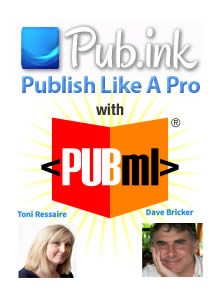 The ability to make eBooks with WordPress solves a number of publishing problems. I offeried a free Webinar with Toni Ressaire of pub.ink that walks you through the process of creating eBooks with WordPress and publishing them. That webinar is archived in this post along with my previous webinar about eBooks in the web browser.
One challenge facing authors and publishers is the limited set of tools available for creating eBooks. It's easy enough to export an eBook from Adobe InDesign or other software, but if you want to edit an eBook, the process is too technical for most writers. The PubML WordPress plugin tools make eBook editing easy, visual, and intuitive.
And the state of eBooks is such that every reader renders them with a not-so-slightly different appearance. Though eBooks are based on HTML and CSS (the standard coding conventions used to render content on the web) eReader devices and software interpret these "standards" with wide variations.
39 views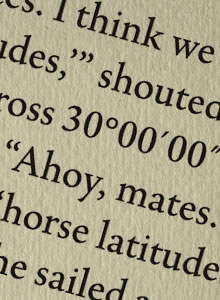 Writers often ask about the difference between "straight" or "dumb" quotation marks and traditional printers' quotes, commonly referred to as "smart quotes" or "curly quotes." Add in the need to distinguish between left single quotes and apostrophes, and the primes used to specify feet and inches or minutes and seconds and you end up with a typographic conundrum that confounds many a capable author. This article examines the various types of quotes and primes and explains how to use them.
Book Design Basics: Straight or Dumb Quotes
Straight quotes evolved to facilitate informal writing situations. When typing into a discussion forum, twitter feed, or comment box, use your apostrophe and double-quote keys for all the special characters (except the "degrees" symbol.) "Dumb" text editors don't try to figure out which direction to slant your punctuation. "Dumb" writers don't have to go to the "insert special characters" dialog box or remember special key sequences for each type of mark.
Consider the various punctuation styles needed to render the following example:

Straight quotes make it quick and easy to express a thought. You don't have to be a typographer to make yourself understood. In the right situations, "dumb quotes" are a smart idea. Continue reading →
381 views
Clark Douglas Burris discusses his new book Walk & Roll, in which he tells the story of how he started the Miami Beach Senior High Rock Ensemble while battling the progressive effects of multiple sclerosis. Doug Burris shares his thoughts on writing, publishing, and book design.
89 views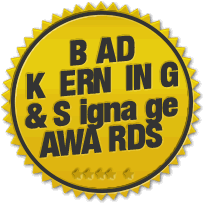 After a redesign, the folks at Final Touch should have found a solution. How much money do you think gets invested in branding a product like this? A snappy name might sound good, but type matters. Sometimes the visual message might not convey the intended meaning. Though it's easy to chuckle over this kerning (letter spacing) faux pas, the consequences of the unintended association caused by the juxtaposition of two simple letters could cost this manufacturer a fortune—even though it might be a superior product. The pink roses don't help the effect.
What's impossible to measure is how many consumers who see this product on a store shelf register the unintended meaning subconsciously—like the brilliant arrow in the FedEx logo. So many people have never noticed it, but how many of them have been touched by it nonetheless?

Kerning: Touched by What?
Final Touch is a branding nightmare. Unless they change their name and relaunch, they'll need a skilled typographer to design a logo that's visually stronger than the magnetic attraction between the F and the I.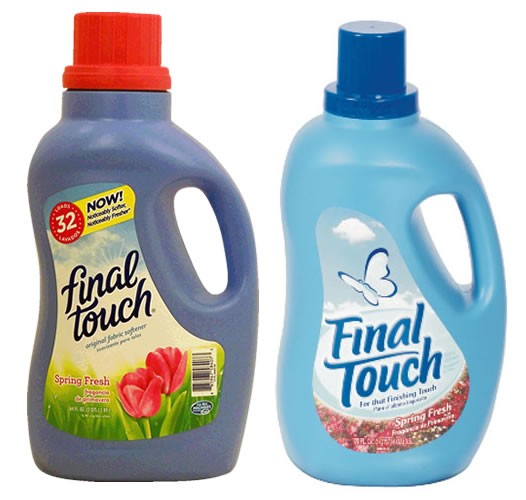 109 views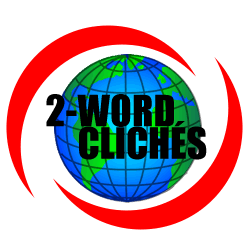 Two-word clichés are perhaps the least obvious kind. Unless we're vigilant, they sneak into our prose, steal color, mask our individual writer's voice, and make us sound like millions of other writers who mindlessly employ the same worn out word combinations. I find countless examples even while editing the work of accomplished authors.
I explored traditional clichés in an earlier post, suggesting that writers who employ phrases like "loose cannon," "fly off the handle," and "bitter end" should do so with an understanding of their origins. A loose cannon could do tremendous damage on a rolling ship. An axe head that flies off its handle could easily kill someone. Hanging on to the bitter end of a rope is prerequisite to fastening it (to the bitts or cleats) on the dock. Every cliché has a story, and writers who understand the origins of clichés use them in more meaningful ways.
The two-word cliché is a different animal. Though it may have historical roots (or be a useful-but-tired metaphor like "low-hanging fruit" or "level playing field"), it's usually comprised of two words that have stuck together and fallen into popular use—often an adjective and a noun. These pairs become inseparable to a point where writers rarely use one word without the other. Continue reading →
518 views
Tom Morkes recently published The Perfect Book sales Page on his blog. I'm usually the first person to reject formulaic approaches to book marketing. Many well-written books are horrible products. But what I like about Tom's template is that it forces you to ask important questions that can help determine whether your book is a marketable commodity. And it adds basic sales elements that communicate value to the prospective reader. Even if you haven't written your book yet, consider how filling in the various sections in Tom's template might change the way you write and publish.

Like this? Learn how to sell more books with Tom Morkes.
The Perfect Book Sales Page: Section 1 – The Big Picture

The Perfect Book Sales Page: Product Summary
At the top of the Perfect Book Sales Page, the title and cover that you're selling a book, along with some bullet points that illuminate its key selling points. Stop! As simple and obvious as these may seem:
Does your title convey what your book is about?
Is your cover engaging?
Can you name at least three compelling reasons why a reader should buy your book?
So many authors never ask these basic questions. Smart publishers use them to determine what manuscripts to acquire and invest in. Writers who want to sell books ask these questions to help determine what to write. Yes, your book has to be good—but it also has to be a marketable product.
1,926 views
If you're not using your Word Processor's Track Changes function, you're missing out on one of the best writing tools of the digital age. The good news: it's quick and easy to learn. This video tutorial will show you how.
Track Changes is perhaps one of the most useful features in MS Word. This toolset is valuable because it promotes a collaborative relationship between writer and editor. Many first-time authors fear the editing process because they're concerned an editor will "process" their work and remove their unique, authentic voice from the prose. Track Changes prevents this from happening. By its very nature, Track Changes revolves around discussion; it allows the editor to make suggestions and the author to accept or reject them. And if an editor makes a correction that doesn't have an obvious rationale behind it, that correction can have an explanatory comment attached to it. Track Changes does what its name implies: it tracks changes. Every revision is saved; author and editor can toggle between the edited text and the original.
Gone are the days when typed paper manuscripts were annotated with proofreader's marks and comments in the margins were attached with lines to circled phrases. Track Changes is an essential tool that helps guide your narrative from rough draft to polished manuscript.
Tip: Be sure to accept or reject all changes and close or respond to any comments each time you receive an annotated document for review. The right margin fills up with comments and corrections quickly, and these create untenable clutter if they're left in place. Over time, the document will evolve toward a final version as fewer and fewer changes and discussion points remain.
Watch the video full-screen at 1080p for a better view.
454 views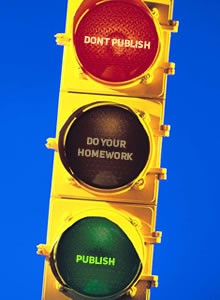 I recently re-posted my article about Publishing Scams and How they Work. I wonder why so many authors, after spending thousands of hours working on a book, fail to conduct a few critical hours of research that will save them thousands of dollars and immense frustration. Perhaps it's because the system that preys on uninformed authors is so powerful, enormous, and far-reaching that it sounds like a wacky conspiracy theory. It can't be true. This sounds like Bermuda Triangle stuff.
David Gaughran's article, "Author Solutions and Friends: The Inside Story," explores how documents related to lawsuits filed against Author Solutions suggest its relationships with such publishing luminaries as Penguin/Random House, Publishers Weekly, Lulu.com, Kirkus Reviews, and others are part of a huge web of influence and deception that preys on authors. Emily Seuss does a capable job of warning authors on her own blog.
Something that sounds like a conspiracy theory isn't necessarily false. Continue reading →
1,238 views