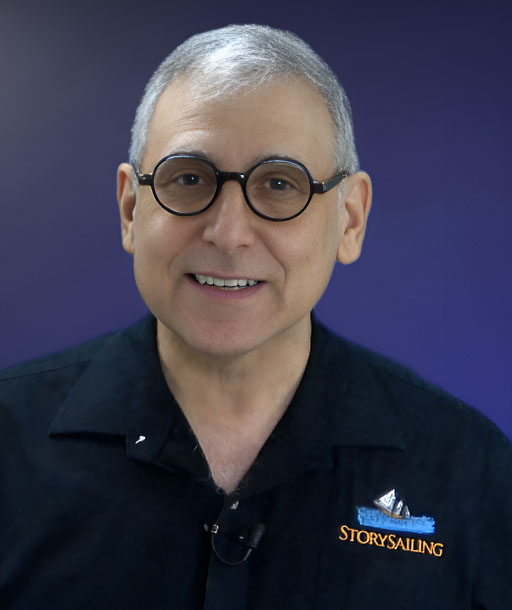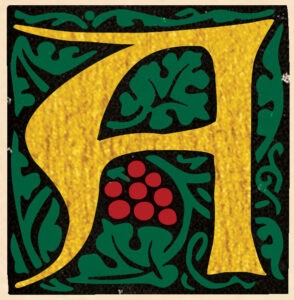 s a young man, Dave Bricker was inspired by the remarkable people he met in Miami's "secret floating village." The sailboat anchorage a quarter-mile off-shore from Miami City Hall attracted world travelers, squatters, dreamers, and bums. All had remarkable stories to tell.
By the time he graduated college, he was living aboard his own tiny sailboat. Soon after graduation, he set sail for the Bahamas with a locker full of food and dreams … and $40 in his pocket.
His voyages took him up and down the Bahamas, up the east coast of the US to Chesapeake Bay, and across the Atlantic to Gibraltar. He ran aground, dealt with mechanical breakdowns, got seasick more than once, slept in a volcano, survived powerful storms, and returned to the land of clocks and calendars with what he'd gone in search of—stories of his own.
1995 – Founded Spot Grafix, Inc. an award-winning web and graphic design studio which operated through the end of 2017.
2000–2014 – Taught graphic and web design at the Art Institutes Miami International University of Art & Design
2007 – Adobe Site-of-the-Day Award for http://www.michaeldunnguitars.com
2011 – Adobe Design Achievement Awards Semifinalist for flipbook technology
2014 – IPPY Award for The Blue Monk for Excellence in Self-Publishing
2018—Founded Remarkable Stories, Inc. to focus on realms of storytelling beyond graphic design—writing, speaking, and other forms of message-crafting. He's a Distinguished Toastmaster and a long-time member of the National Speakers Association.
Today, as a speaker, trainer, and coach, Dave Bricker helps remarkable people tell remarkable stories—through writing, speaking, graphic design, video, technology, and music. If you want to say it, share it, or sell it, bring him your story; he'll help you tell it.
Books by Dave Bricker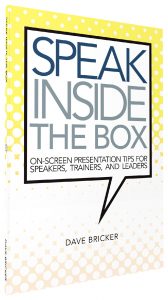 Speak Inside the Box  Today's speakers, trainers, and leaders struggle to engage colleagues and clients inside the "box" of viewers' computer and cellphone screens. SPEAK INSIDE THE BOX offers simple, practical advice for on-screen presenters.
Whether you're a professional speaker, a business leader, a solopreneur, or a team member wanting to build new skills, SPEAK INSIDE THE BOX is your essential, illustrated guide to becoming an effective on-screen presenter and leader.

---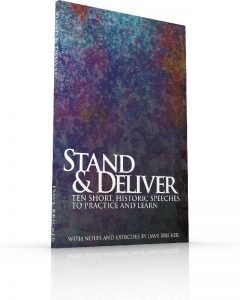 Stand & Deliver: Ten Historic Speeches to Practice & Deliver  Actors learn and practice monologues; speakers benefit by doing the same.
Expand your speaking skills with this collection of ten short historic speeches and speech excerpts. Practice the art of oratory with Abraham Lincoln and Lou Gehrig. Fight on the beaches with Winston Churchill. Join the March on Washington with Josephine Baker. Ask what you can do for your country with John F. Kennedy.

---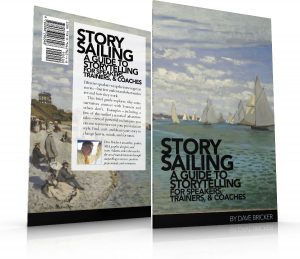 StorySailing®: A Guide to Storytelling for Speakers, Trainers, & Coaches Effective speakers wrap their messages in stories—but few understand what stories are and how they work.This brief guide explores why some narratives connect with listeners and others don't. Examples—including a few of the author's nautical adventure tales—reveal powerful techniques you can use to pressure-test your presentation style. Find, craft, and share your story to change hearts, minds, and fortunes.

---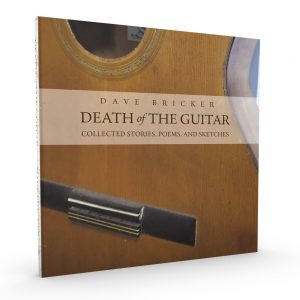 Death of the Guitar is a book of original compositions by author and storyteller, Dave Bricker. Poems about garden slugs and sea cucumbers and a selection of informal sketches salvaged from the margins of high school notes accompany tales of nautical adventure, thoughts on enlightenment, musings on rainy days, portraits of the spirit of flamenco music, an irreverent Christmas story, expositions on the nature of storytelling, and unconventional words of encouragement. Swim with whales, sail across the Atlantic in a wooden boat, enjoy a feast under the stars on a deserted beach, take a ride on a rusty freighter, explore the depths of gratitude, get hit by a meteorite, and witness the violent death of a beloved guitar in this collection of witty, colorful, and richly experiential stories and poems.

---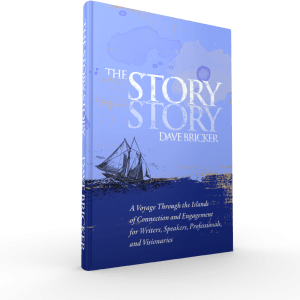 The Story Story: A Voyage Through the Islands of Connections and Engagement for Writers, Speakers, Professionals, and Visionaries is a story about storytelling. Too many books have been written ABOUT storytelling. But if stories are so powerful, why not use a story to teach about stories? This is a non-fiction business book wrapped in a novel.
Download a sample here.

---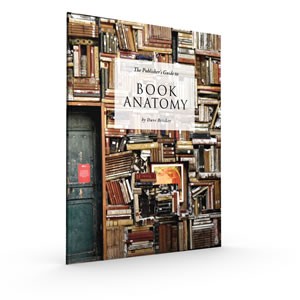 If you're unsure whether to include a Preface, a Foreword, or a Prologue in your book, or don't know what an Epigraph or a Colophon are, The Publisher's Guide to Book Anatomy is for you.

---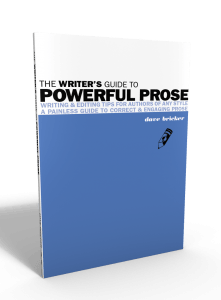 The Writer's Guide to Powerful Prose was created to teach you today what you can practice for the rest of your life. Read, learn, and grow. You'll be a better writer by the time you finish this book.

---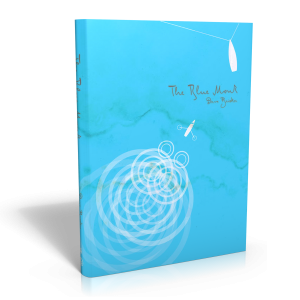 The Blue Monk is a memoir that recalls how I came to love sailing, joined a unique community of misunderstood people at Dinner Key Anchorage and sailed away to enjoy a life of carefree adventure. The book also provides an account of a special slice of Miami history that would otherwise remain unrecorded. But The Blue Monk is also about something much larger than myself. I am but the narrator. My experiences sailing alone on a small boat were sometimes terrifying and frequently beautiful. Often, they were an odd combination of both. The Blue Monk is the story of an encounter with the remarkable world that lies just beyond the horizon of what we believe is possible and deep within each of us.

---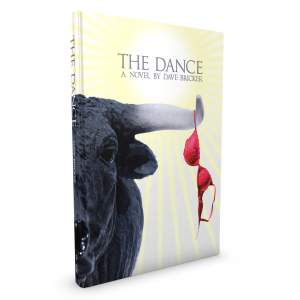 Hanns is a restless engineer, photographer and filmmaker ready for his next adventure. Tino is a brilliant painter and flamenco guitarist. Anna is an uninhibited dressmaker and chocolatier who delights in life's absurdities. Antonio is an amateur bullfighter determined to prove himself in the ring.When inexplicable circumstances bring them together, they are catapulted off on a whimsical expedition to Southern Spain to create a documentary film and search for a magic guitar. Along with Kalimba; the son of an African witch doctor and a Christian missionary, the unlikely group journeys to music shops, island anchorages, gypsy camps, bull rings and bedrooms to discover the rules for breaking the rules.
Dave Bricker's first novel, The Dance, is a joyful, sexy, humorous and provocative excursion that leaves few traditions unquestioned as its unusual cast of characters brazenly steals a peek under the skirts of life's magic to revel in its mystery.

---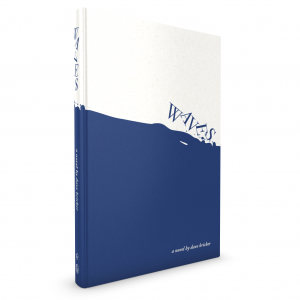 An epic sea story written by an experienced sailor, Waves is a colorful, authentic account of an extraordinary voyage. Hanns sails a 47′ cruising trimaran to the Caribbean through a realm of transcendent beauty. Trusting instinct and nature's signs, he survives storms and reefs to find paradise threatened by the very people drawn to its magic; a poignant allegory for our times.

---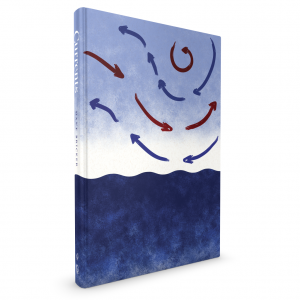 Dave Bricker's third novel, Currents continues the remarkable voyages of Hanns as he sails the Caribbean, determined to enjoy life to the fullest.
Underwater volcanoes, a broken rudder, rainforest business ventures, a trip to New York in a leaky freighter and a ride with a jealous captain keep this vivid adventure moving as dark forces gather beyond the horizon to challenge Hanns to a deadly game.
Written by an experienced sailor, Currents is as much a story of the human spirit as an epic, authentic sailing adventure.