Television Land: Avoiding the Editorial "We"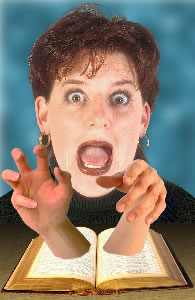 As storytellers, teachers, and thought leaders, writers must cultivate a skill for communicating without blocking the spotlight, don't you think? Now tell me, isn't it annoying when you're watching a movie and one of the characters turns, faces the camera, and makes some remark to "the audience"—as if he's in a live show and you're sitting somewhere in "television land," ready to cheer or shout advice? I'm sure you'll agree that audience engagement must be managed cleverly. The Rocky Horror Picture Show pulled it off masterfully, but the editorial "we" has the potential to ruin the relationship between the reader, the narrator, and the characters in a book—even if the narrator is the main character. Talking to the reader is fine (and often inevitable) but the editorial "we" implies a partnership that hasn't been sanctioned by both parties.
Talking directly to your reader from the inside of a story is a bit like hugging a stranger. As warm and personal as that gesture may be, it will likely be perceived as an invasion of space. Your book is about what you think. Your reader doesn't owe you an opinion and even if she did, you can't be "sure she'll agree with you."
Asking anonymous readers for their opinions or support makes you sound insecure and in need of approval. Having written a book, you have invited your reader to share your thoughts, ideas, feelings, memories, and experiences. Write boldly, humbly, and confidently. Stand behind your prose whether the reader likes it or not. Some will and some won't. Ask your editor for a writing critique and then hand your reader your best shot.
Part of the "bargain" between writer and reader is that you, the author, get to share openly and intimately; the reader gets to consume your prose anonymously and without comment. A book is, in some respects, a "hidden camera" into your life and mind. "I see you peeking," hints from the writer make that relationship creepy.
If your goal is to make your writing sound conversational and informal, talking to the reader is no more effective than preceding sentences with crutch phrases like "So," "Anyway," or "Also." Informal writing is direct and simple. Hints of humor, personal style, and uncomplicated language are all that's required.
Talking to the reader (as I am now doing to you) is perfectly acceptable; that's what narrators do. I discussed the importance of the narrator's voice in my article about writing dialogue. But if I had written, "We discussed …" in the previous sentence, I would have placed you in a conversation you hadn't consciously agreed to participate in. As subtle as that is, some readers find it manipulative and disempowering. We never discussed anything.
As with other style patterns, be conscious of the relationship between you and your reader. Establish respectful ground rules and stick to them. Unless you're the Pope or have parasites, avoid using editorial "we."