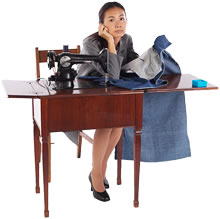 I recently responded to an arti­cle on Publishing Perspectives by Andrew Pantoja that inno­cently advises self-publishers about sources for cheap book cov­ers. It is tech­ni­cally easy to cre­ate your own cover; therein lies the prob­lem. It's also easy to sew your own para­chute. I have seen suc­cess­ful cov­ers made by ama­teurs but I've seen plenty of authors proudly dis­play­ing hor­ri­ble design abortions.
Why hire a pianist for a wed­ding when you can get a dig­i­tal piano cheaper? This same flawed logic is often embraced by do-it-yourself cover design­ers. It sub­sti­tutes obtain­ing a tool for solv­ing a prob­lem. It's even more embar­rass­ing when the pur­chaser of the piano can't hear the dif­fer­ence; a guar­an­teed room-clearer.
Graphic Design is not about mak­ing some­thing "pretty" or even find­ing some­thing you per­son­ally "like." Design is a craft prac­ticed by pro­fes­sion­als who not only under­stand how to use their tools, but how to choose and mix type­faces, com­bine col­ors, achieve ten­sion and bal­ance, and avoid cliches. Graphic design uses text and images to solve a prob­lem or achieve a goal. As with den­tistry, there's much to be said for work­ing with a professional.
The arti­cle sug­gests crowd­sourc­ing as an approach:
For authors who are eager to enter the mar­ket quickly the answer may be crowdsourcing.
On 99Designs, authors can com­mis­sion book cover designs. The first step is draft­ing a design brief which pro­vides the crowd of design­ers with a bet­ter under­stand­ing of the project. This includes a descrip­tion of the author, the book, and spe­cific tech­ni­cal guide­lines like file type, doc­u­ment size and resolution.
After set­ting a price, which can range from $195 to the project's bud­get limit, authors can kick back as dozens of designs are sub­mit­ted from around the world. 99designs already has over 100,000 reg­is­tered members.
Outfits like 99Designs may pro­duce use­ful results, but their fun­da­men­tal lia­bil­ity lies in the qual­i­fi­ca­tions of the judge of the design con­test; you. The exam­ple cover depicted in the arti­cle is attrac­tive, but the style is used all the time and the text is dan­ger­ously close to the edge. An unin­formed author may be seduced by the com­fort offered by the design's latent famil­iar­ity, only to find that the text on the spine or back is cut off because it fails to accom­mo­date vari­ances in the print­ing process.
Many DIY cover design­ers buy a suit­able stock photo and then fall imme­di­ately into set­ting blocks of cen­tered type on top of it. Notwithstanding the fact that their type choices often sug­gest time­frames irrel­e­vant to the book, set­ting type over the broad range of tones in a photo is not always easy. Solving the prob­lem with glow, bevel and drop­shadow fil­ters is another open man­hole cover that leads straight to book cover hell.
Like logo design, book cover design is about cre­at­ing a unique visual pres­ence that tells a story. Like good writ­ing, book cover design is a craft that requires time, prac­tice and the help of a capa­ble pro­fes­sional (an edi­tor or designer). You wouldn't send your story syn­op­sis to 99WRITERS, would you?
If you're a seri­ous writer, work with a pro­fes­sional designer. If the only thing they offer is tech­ni­cal skill, you found a pro­duc­tion artist. Try again until you find a designer; they trade in results, not pix­els. Evaluate the offers of ebook con­ver­sion firms and print­ers very care­fully. They only offer design ser­vices to feed their core pro­duc­tion busi­nesses and are gen­er­ally not qual­i­fied to judge quality.
If you can't afford a pro­fes­sional, under­stand the risks of DIY. At very least, get some design books and make sure you work with his­tor­i­cally ground­break­ing work in front of you. I have a library of design books going back to the 1870s and I use them. The last place I look for design inspi­ra­tion is the Internet, a realm where 99% of the images are cre­ated by techies who have no design train­ing at all.
Even with cheap image manip­u­la­tion soft­ware avail­able to any­one and plenty of sites offer­ing free fonts, there's a rea­son peo­ple will spend six fig­ures to get a design degree. There's a rea­son seri­ous writ­ers will pay $500-$2500 for a book cover that says what it's sup­posed to say and does what it's sup­posed to do. There's a rea­son self-published books are stig­ma­tized as uni­ver­sally crappy.
If you spent the time to write and edit a book, you under­stand the incred­i­ble effort that goes into pol­ish­ing a man­u­script. Why take the low road when it comes to shar­ing your work?