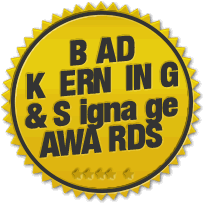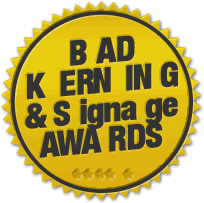 After a redesign, the folks at Final Touch should have found a solution. How much money do you think gets invested in branding a product like this? A snappy name might sound good, but type matters. Sometimes the visual message might not convey the intended meaning. Though it's easy to chuckle over this kerning (letter spacing) faux pas, the consequences of the unintended association caused by the juxtaposition of two simple letters could cost this manufacturer a fortune—even though it might be a superior product. The pink roses don't help the effect.
What's impossible to measure is how many consumers who see this product on a store shelf register the unintended meaning subconsciously—like the brilliant arrow in the FedEx logo. So many people have never noticed it, but how many of them have been touched by it nonetheless?


Kerning: Touched by What?
Final Touch is a branding nightmare. Unless they change their name and relaunch, they'll need a skilled typographer to design a logo that's visually stronger than the magnetic attraction between the F and the I.