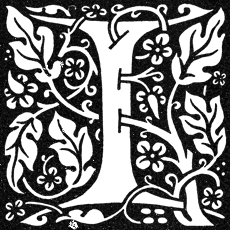 NITIAL CAPITALS have historical roots in the early days of book design; their use predates the printing press and the invention of moveable type. Today's initial caps are not as fancy as those carefully rendered in gold leaf in ancient scriptoriums, but their association with classic book design remains strong. Initial Capital letters are often referred to generically as "drop caps" though a drop capital is actually a specific style of Initial Cap.
Some modernists discourage the use of initial caps, citing a host of typographical problems, but "Once upon a time" just wouldn't be the same without a great big letter "O" at the beginning. Though not appropriate for every book, initial caps announce the beginning of a chapter with classical style. They suggest that the text you are about to read transcends mere data; this is literature.

Illuminated letter P in the 1407 AD Latin Bible on display in Malmesbury Abbey, Wiltshire, England
This post examines different styles of initial caps and discusses the challenges of transitioning smoothly from large initial characters to the much smaller characters of body text. Digital tools and shortcuts make it easy to create initial caps but the easy way isn't always the best way. Serious publishers understand the subtle differences between good typography and great typography. Many thanks to author and typographer Dick Margulis for editing and fact-checking.