Part 2 of Fundamentals of Book Design explores optical margins, paragraph formatting and spaces.
Read about margins, layout and leading in Part 1.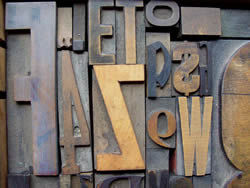 The self-publishing revolution is (aside from the Internet) the greatest thing ever to happen to freedom of speech and expression, but self-published books are widely stigmatized as poorly produced. Why? Because they almost universally are. Moreover, the declining standards of mainstream publishers do not justify the mediocrity of self-publishers. In fact, self-publishers will find a competitive advantage in applying basic book design principles to produce books that are comfortable to read and pleasing to the eye.
After all those hours writing and editing, why not produce a book that conveys your good taste, attention to detail and care? Here are some simple but powerful book design tips to help your book achieve excellence. Continue reading →