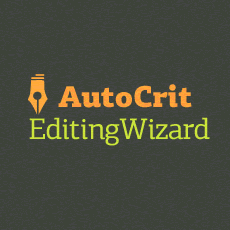 Can a computer analysis of your text help you write better? I gave AutoCrit a spin and became a customer.
It is often difficult to see mistakes in your own manuscript, but overused adverbs, repeated words, passive writing, too much introspection, and other patterns can be easily recognized by a computer. Author, Nina Davies used her background as a computational linguist (someone who works to make computers understand human languages) to develop the AutoCrit Editing Wizard. The wizard automatically finds and highlights potential problems in your text.
According to the AutoCrit site:
AutoCrit is a tool to help you identify weaknesses in your fiction writing. AutoCrit can help you identify:
Words that weaken your writing, such as too many occurrences of "that" or "it" or LY-adverbs.
Repetition of similar words.
Sentences that lack variety due to similar lengths.
Overuse of dialogue tags such as "she muttered."
AutoCrit is not a grammar checker or a spell checker. AutoCrit identifies problems that prevent the reader from your enjoying story.