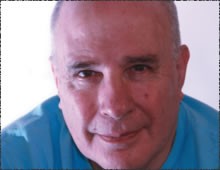 Many authors start down the publishing road believing that printing books is the same as printing money, only to be disappointed by low returns and the amount of work involved. This guest article by novelist, poet and songwriter Richard Geller responds to advice offered by marketing luminary Seth Godin who suggests indie publishers should lower their expectations. Geller proposes different ways to measure success. Printing books is not the same as printing money, but for creative writers, printing books may give rise to something of even greater value. Changing expectations and lowering them are two different things.
---
In his insightful blog, Seth Godin offers two separate lists of marketing tips for writers. I want to reflect a bit on what he has in the number-one position on each list; they're closely related:
1. Lower your expectations. The happiest authors are the ones that don't expect much. (2005)
1. Please understand that book publishing is an organized hobby, not a business. The return on equity and return on time for authors and for publishers is horrendous. If you're doing it for the money, you're going to be disappointed.
On the other hand, a book gives you leverage to spread an idea and a brand far and wide. There's a worldview that's quite common that says that people who write books know what they are talking about and that a book confers some sort of authority. (2006)
Any comparison of the number of books published versus the number of authors making useful amounts of money at it is damn sobering stuff. Seth Godin certainly has his facts straight. The odds are definitely against you achieving anything that resembles business success.
I have, however, a question about lowering our expectations. Does the unlikelihood of ever realizing material success or fame from your writing mean you should lower your expectations? Or should you, instead, adopt different sets of expectations—aligned with marketplace realities—that are high nonetheless?