Are You Living the Writer's Life?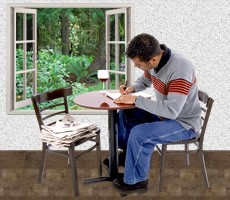 Writers and publishers generally talk about selling books, choosing a path for printing and distribution, the importance of professional editing and design, and technical matters pertaining to grammar and style. But what about the path one takes to become a writer? Certainly, we must all learn about semicolons and apostrophes, but that journey is often inspired by an earlier and more profound one. From whence comes the call to translate vivid life experiences and ideas—the sublime, the horrific, the transcendent, the transformational, the imagined—into a form that can be shared? What does it mean to live the writer's life—as opposed to the publisher's?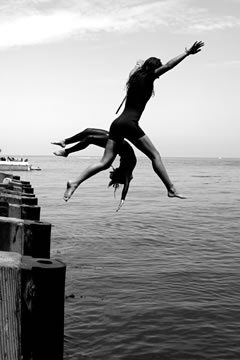 A friend recently suggested I take a look at KatieAndJessieOnABoat.com, a blog created by Katie Smith and Jessie Zevalkink—two young women making a long journey on a small boat. After turning a fixer-upper sailboat into a humble home, they made their way from the Great Lakes down the Mississippi and its tributaries to the Gulf of Mexico. Destination: across the Gulf Stream to the Bahamas. Their site is a chronicle of their thoughts, adventures, friends and photographs gathered along the way.
Back in the 1980s and 90s, I took off in a small sailboat with an even smaller amount of money to go find my own stories. I had remarkable experiences cruising solo in the Bahamas and crossing the Atlantic to Gibraltar. I had some of the best and worst times of my life on those voyages and today, I look back on my past without an ounce of regret over things I "should have" done.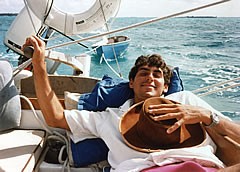 Those were days before GPS and the Internet, before digital cameras, before Facebook and Flickr. I took photos (remember 35mm film?) and even created my own tongue-in-cheek edition of "Captain Dave's Nautical News," but recording and sharing my adventures was much more difficult then than it is today. Nevertheless, I had some inkling, even as a young man, that I would one day wish to write about my journeys. With that in mind, I took a few more chances and explored a few more blind alleys. "What can I do today that will be worth writing about?"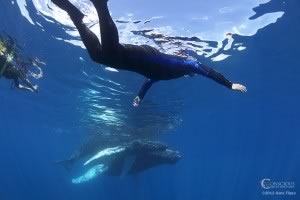 Before those voyages, back in the late 70s, my high school friend Gene Flipse introduced me to boating and Miami's Biscayne Bay. Today, Gene runs Conscious Breath Adventures—one-week excursions to the Dominican Republic's Silver Bank to swim with migrating humpback whales. His weekly cruise reports offer astounding views and descriptions of whales in the wild.
Katie and Jessie and Gene offer an important reminder for those of us who spend countless hours marketing our prose. The writer's life—or at least a critical part of it—is not about publishing. The writer's life is about stepping off the sidewalk, paying attention to details, and placing a certain amount of faith in the premise that because you survived all the days preceding this one, you'll likely survive whatever you encounter today. Why not go for it? The writer's life is about living a life worth writing about—even if you never set pen to paper.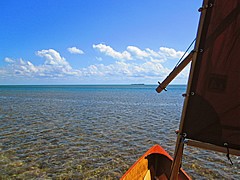 Two decades after my sailing voyages, I'm still tapping away at the keyboard polishing up my old stories. But a few months ago, I decided I'd been away from the water too long and I bought myself a fifteen-foot open sailboat. It feels good to be out there having aquatic adventures again—even if they don't span months and thousands of miles.
Your adventures may be different—not smaller, but different: parenting, adopting a stray animal, losing your job, starting a career, getting lost in an unfamiliar town, having a vivid dream, getting married, getting divorced, going blind, inventing something important that nobody will pay attention to—but these experiences are the stuff from which great literature is made. Publishing is a great adventure in itself and a noble endeavor, but of all its dangers and pitfalls, perhaps the greatest is the possibility that the demands of turning our books into products might distract us from the far more important process of having experiences and turning them into stories.
As the old saying goes, "you're either talking about it or you're doing it." As your story transitions from experience to manuscript to book, don't forget to live the writer's life. There is none better.