Writing Style: The Writer's Guide to Powerful Prose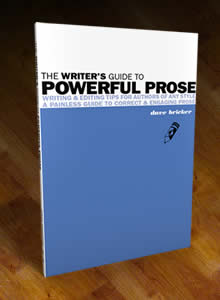 Certain writing style patterns weaken your prose and render it awkward, generic, and impersonal. As we hike the writer's path of never-ending refinement, we must learn to see patterns that were once invisible to us. Some of these patterns are revealed through the lens of experience; others are shown to us by editors and friends. But until we learn to recognize these patterns, our writing is likely to resemble the work of millions of other authors.
The goal of The Writer's Guide to Powerful Prose is not to define particular usages as right or wrong or good or bad. When we speak, ideas pour instantly and spontaneously from our mouths, but good writing is not such an automatic process. Writers have the luxury—the responsibility—of editing their ideas before sharing them. Writing style patterns become trigger points for conscious decision making. Could I use a better adjective? Is my metaphor a tired cliché? Does my sentence work just as well without "that" in it? Or do I want to leave this sentence as I wrote it?
In many cases, your word processor's search function can be used to reveal style patterns. How many times did I begin sentences with, "It was …?"
Writing Style Patterns: Writing is Design
One marvelous thing about style patterns is that once you learn to see them, you aren't likely to miss them again. Have you ever noticed the arrow in the FedEx logo?

If you never noticed what makes this logo brilliant before, you'll never see it again without noticing that arrow. The Writer's Guide to Powerful Prose will make you a better writer by the time you finish reading it. You'll see things you didn't see before, and you'll continue to see them.
The Writer's Guide to Powerful Prose was created to teach you today what you can practice for the rest of your life. Read, learn, and grow. You'll be a better writer by the time you finish this book.
Read the entire book in your web browser below. Purchase a printed copy (107 pp.) on Amazon here.
[PubML book="the-writers-guide-to-powerful-prose-2″ showBadge="true"]