Organic Design: An Article for GraphicDesign.com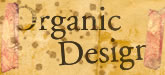 Organic Design – Real design doesn't look like a technology demonstration; real design looks like the work of a living, thinking person. In handwork, scuff marks from sanders or extraneous saw marks are unacceptable flaws. In digital design, the same standard applies; go beyond the software footprint to bring your work to life.
Read Organic Design – my first article as a contributing writer for graphicdesign.com here.