Selling Your Book in Discussion Forums? Don't!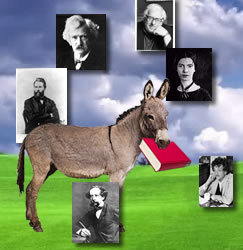 I've learned a great deal, shared a lot of information, and met some some clever folks on LinkedIn writers' forums, but no matter what topic is being discussed, some clown always posts a link to his latest book. Really? Are you kidding? Though I've written on this topic before, here are some thoughts on forum etiquette.
Forum Etiquette: Don't Change the Subject
Changing the topic of a discussion to suit your own commercial agenda is spam—bad form. Topic changing is also called "hijacking" the discussion. Some group moderators will (quite rightly) ban you for it.
Forum Etiquette: Sell Books to Readers
Though you might feel like you're among sympathetic colleagues, every single participant in writers' forum discussions either has her own books to sell or is in the process of creating one. If everyone posted links to their books, any possibility for productive discussion would die altogether. Selling books in a writers' group is like trying to sell boxed lunches at a chefs' convention. Ask questions. Offer answers. Support or challenge the contributions of other participants, but don't hawk your books in discussion forums—sell books to readers, not to writers!
Forum Etiquette: Respect the Topic Starter
The topic starter has taken time to formulate a question or may even have spent hours researching and writing an article to share. Posting a link to your book is a slap in her face and to all who participate in the conversation. Your book link says, "forget about the topic. Look at me." This simple act of selfishness brands you immediately as an amateur.
Forum Etiquette: It's Not About You
Marketing—including independent bookselling—is all about building relationships. If you wish to sell books, join discussion groups in places where your prospective readers hang out. Write articles, start your own discussion topics, invite others to participate, and then demonstrate your relationship-worthiness by unselfishly answering questions, offering advice, sharing information, and thanking people who respond. Group members will visit your profile page where it's quite appropriate to include links to your books. If you wish to build relationships with anyone, listen and share, but don't go on and on about yourself; the first date will be the last.
Forum Etiquette: "The Heavies" are Watching
Writing and publishing forums are unique in that most everyone in them has accomplished the extraordinary feat of writing and publishing at least one book. Though your colleagues may let you slide without commenting, consider whether you want to publicly steal the spotlight in front of a group of capable, literate, and informed intellectuals and artists—most of whom have resisted the urge to self-promote in deference to commonsense principles of forum etiquette.
Forum Etiquette: Use Private Messaging
In general, discussion forums are no place to sell your wares or services. Though LinkedIn is ideal for business networking, focus on making connections, not sales. If you feel a particular group member may benefit from what you have to offer, send a short private message inviting him to contact you if he thinks you can be of service. Private messaging also provides an excellent vehicle for one-on-one conversations inspired by the original topic thread.
The majority of people who post book links aren't consciously spamming or trying to offend anyone. Informing the world about your new book is the most natural thing in the world to do. Who wouldn't want to share such an accomplishment? But self-publishers are better-served to use writers' forums to make contacts and gather information. Share what you know and learn what you can in discussions with fellow writers; then take that information to where your readers are. The conversation—and your book sales—will be better for it.