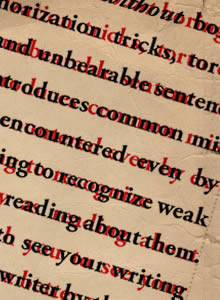 Page layout programs like Adobe Indesign and Quark, allow typographers to exert fine control over justified text to remove gaps and "rivers." The default settings produce "pretty good" results—better than a word processor—but a few small tweaks will dramatically improve the spacing of your text. This article explains how to balance hyphenation settings with word spacing, letter spacing, and glyph scaling to optimize the appearance of justified text.
My last "Book Design Basics" post discussed the importance of hyphenation settings. These should be adjusted to suit the line width and the purpose of the text. A long legal disclaimer in small print in a narrow box can often be set without regard to how many hyphens are required to produce consistent spacing. Body text is likely to be a compromise based mostly on one group of settings. A short blurb on the back of a book cover should be poked and prodded until spacing and hyphenation are ideal. This article explains how to combine hyphenation and justification settings to achieve optimal results.
Disclosure: If you're reading this article, you're probably working on your own next book and don't care about mine (selling books to writers is like selling boxed lunches at a chef's convention). At the risk of appearing self-promotional, I'm using the blurb from my new book's back cover as the example text. It offers a perfect, real-world, one-paragraph example of how adjusting hyphenation and justification settings can turn so-so text into a harmoniously spaced, easy-to-read message, but if you feel I'm "slipping an ad into your drink," you can bail out here.
Still with me? Good. Let's look at the text in its "pure" left-aligned form: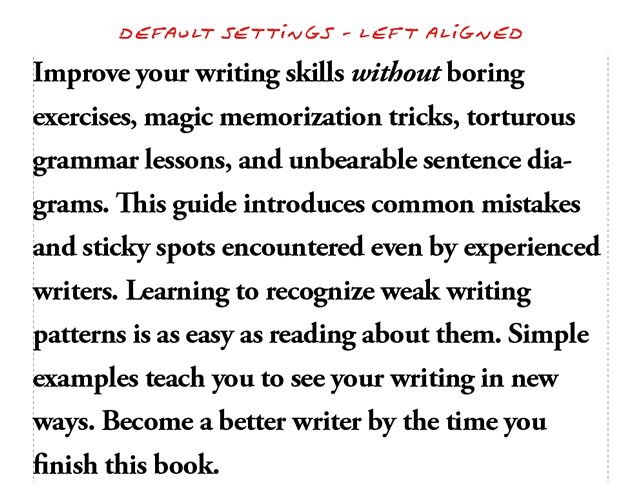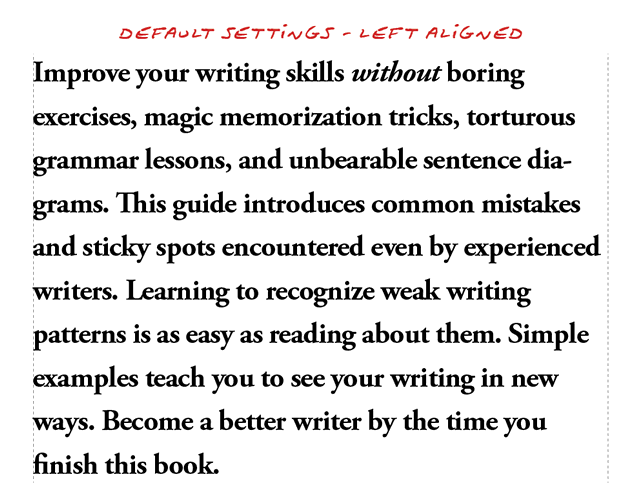 The spacing is ideal for the font (Adobe Garamond Pro) as it's unaffected by justification settings; the spacing you see is the spacing designed into the typeface. Many people prefer left-aligned (ragged right) text for this reason, but others prefer justified text because of the neat, tidy way it fills its box. Continue reading →