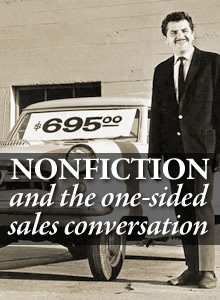 Business, technology, and how-to books can be viewed as one-sided sales conversations. Though the author may hope to sell products or services, what's usually being sold directly to the reader is an idea—a strategy or philosophy that can be used to achieve a benefit. And the author is not present when they make their pitch—hence the one-sided conversation. Before readers will invest time in consuming, understanding, and executing the book's idea, they need to know that the author:
Understands their culture
Addresses their pain points and challenges
And that the author will produce specific benefits that:
Save time and money
Reduce stress
Make them feel better about themselves and their place in the world
Chapter 1: Is My Book for You?
Nonfiction authors often wish to establish thought leadership. They want to build communities and catalyze movements around their ideas. To do this, they need to put their books in the hands of relevant readers. Have you ever filled out an online form and downloaded a piece of software only to discover that the developer failed to mention it only runs on whatever platform you don't use? Failure to qualify your user/reader results in nothing but unread books and ill will. In the first chapter (and on the back cover), make it clear who your ideal readers are and what result you intend to deliver for them. Who is your customer and what is your value proposition. Continue reading →