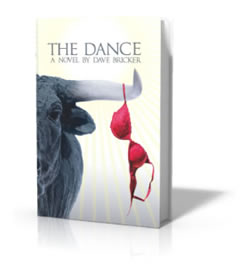 Hanns is a restless engineer, photographer and film-maker ready for his next adventure. Tino is a brilliant painter and flamenco guitarist. Anna is an uninhibited dressmaker and chocolatier who delights in life's absurdities. Antonio is an amateur bullfighter determined to prove himself in the ring.
When inexplicable circumstances bring them together, they are catapulted off on a whimsical expedition to Southern Spain to create a documentary film and search for a magic guitar. Along with Kalimba; the son of an African witch doctor and a Christian missionary, the unlikely group journeys to music shops, island anchorages, gypsy camps, bull rings and bedrooms to discover the rules for breaking the rules.
Dave Bricker's first novel, The Dance, is a joyful, sexy, humorous and provocative excursion that leaves few traditions unquestioned as its unusual cast of characters brazenly steals a peek under the skirts of life's magic to revel in its mystery.