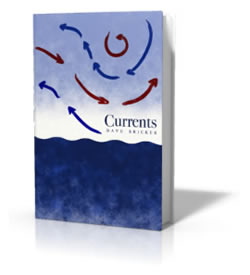 Dave Bricker's third novel, Currents continues the remarkable voyages of Hanns as he sails the Caribbean, determined to enjoy life to the fullest.
Underwater volcanoes, a broken rudder, rainforest business ventures, a trip to New York in a leaky freighter and a ride with a jealous captain keep this vivid adventure moving as dark forces gather beyond the horizon to challenge Hanns to a deadly game.
Written by an experienced sailor, Currents is as much a story of the human spirit as an epic, authentic sailing adventure.