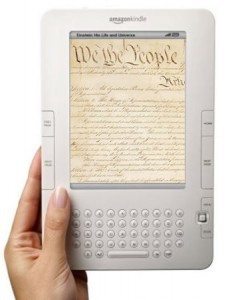 Sarah Houghton-Jan's man­i­festo, The EBook Users' Bill of Rights, has been cir­cu­lat­ing around the pub­lish­ing blo­gos­phere recently. I'm more or less in agree­ment with it, but won­der if it might not be fail­ing to address some larger prob­lems with how media are con­sumed in the 21st century.
The EBook Users' Bill of Rights is repro­duced below and fol­lowed by my com­ments. Feel free to con­tribute con­struc­tive com­ments and opinions.
The eBook User's Bill of Rights
Every eBook user should have the fol­low­ing rights:
the right to use eBooks under guide­lines that favor access over pro­pri­etary limitations

the right to access eBooks on any tech­no­log­i­cal plat­form, includ­ing the hard­ware and soft­ware the user chooses

the right to anno­tate, quote pas­sages, print, and share eBook con­tent within the spirit of fair use and copyright

the right of the first-sale doc­trine extended to dig­i­tal con­tent, allow­ing the eBook owner the right to retain, archive, share, and re-sell pur­chased eBooks
I believe in the free mar­ket of infor­ma­tion and ideas.
I believe that authors, writ­ers, and pub­lish­ers can flour­ish when their works are read­ily avail­able on the widest range of media. I believe that authors, writ­ers, and pub­lish­ers can thrive when read­ers are given the max­i­mum amount of free­dom to access, anno­tate, and share with other read­ers, help­ing this con­tent find new audi­ences and mar­kets. I believe that eBook pur­chasers should enjoy the rights of the first-sale doc­trine because eBooks are part of the greater cul­tural cor­ner­stone of lit­er­acy, edu­ca­tion, and infor­ma­tion access.
Digital Rights Management (

DRM

), like a tar­iff, acts as a mech­a­nism to inhibit this free exchange of ideas, lit­er­a­ture, and infor­ma­tion. Likewise, the cur­rent licens­ing arrange­ments mean that read­ers never pos­sess ulti­mate con­trol over their own per­sonal read­ing mate­r­ial. These are not accept­able con­di­tions for eBooks.
I am a reader. As a cus­tomer, I am enti­tled to be treated with respect and not as a poten­tial crim­i­nal. As a con­sumer, I am enti­tled to make my own deci­sions about the eBooks that I buy or borrow.
I am con­cerned about the future of access to lit­er­a­ture and infor­ma­tion in eBooks. I ask read­ers, authors, pub­lish­ers, retail­ers, librar­i­ans, soft­ware devel­op­ers, and device man­u­fac­tur­ers to sup­port these eBook users' rights.
These rights are yours. Now it is your turn to take a stand. To help spread the word, copy this entire post, add your own com­ments, remix it, and dis­trib­ute it to oth­ers. Blog it, Tweet it (
#ebookrights
), Facebook it, email it, and post it on a tele­phone pole.

To the extent pos­si­ble under law, the per­son who asso­ci­ated
CC0
with this work has waived all copy­right and related or neigh­bor­ing rights to this work.'
I think Sarah is dead-on in prin­ci­ple, but what's miss­ing from dis­cus­sions about Digital Rights Management (DRM) and the rights of eBook con­sumers is a dis­cus­sion of the role of pub­lish­ers and how that impacts the def­i­n­i­tion of a "book" one might have rights per­tain­ing to. Then there's the larger mat­ter of just who's in charge of the hen house.
Back in the days of vinyl records, music was insep­a­ra­ble from the medium that con­tained it (much like a paper book). When cas­settes (copy machines) came along, the indus­try wasn't happy, but its profit model was pro­tected; most lis­ten­ers (read­ers) who cared enough about the con­tent to buy their own wanted a higher-quality orig­i­nal press­ing (printing).
When CD burn­ers and the abil­ity to dupli­cate, com­press, refor­mat and restore audio files appeared, the music pub­lish­ing indus­try met the chal­lenge with law­suits against any­one who refused to keep the music con­fined to its disc. Instead of prac­tic­ing lead­er­ship in evolv­ing the music indus­try towards treat­ing their prod­uct as soft­ware, they cul­ti­vated ill will on the part of mil­lions of lis­ten­ers who responded by freely shar­ing bil­lions of files (though that's admit­tedly polar­ized. File shar­ers are copy­right vio­la­tors who can't jus­tify their actions by dis­lik­ing the copy­right holder). Another sad casu­alty of the record industry's inabil­ity to change was album art. Originally a poster-sized 12x12-inch piece of cul­ture, com­pact disc art shrank to a flac­cid 5 1/4-inch insert and finally to an entirely neutered thumb­nail image in your e-music store of choice. Anyone who grew up in the days of vinyl will remem­ber how going to a record store was like vis­it­ing an art gallery—a blast of pop cul­ture full of images as iconic as the Rolling Stones Sticky Fingers album with the real zip­per on it and the prism on Pink Floyd's Dark side of the Moon. In a world of noise and sta­tic where we're only just awak­en­ing to the idea that effec­tive mar­ket­ing is actu­ally enter­tain­ing, it's a shame the music indus­try couldn't think past their fun­da­men­tal­ist doc­trine of legit­imiz­ing only music that came from their own fac­to­ries. By focus­ing on enforc­ing imag­i­nary rules about the rela­tion­ship between a song and its man­u­fac­tured con­tainer, music mar­ket­ing left one of its legs stand­ing at the curb.
Today, in the film world, we see count­less reruns of that old Japanese clas­sic: Return of The Son of BetaMax vs. VHS. You may recall the con­tem­po­rary remake that bombed: HD-DVD vs. the Blue Ray? Blue Ray won the bat­tle only to inherit a world where peo­ple increas­ingly pre­ferred to stream movies. Having embraced the con­ve­nience, porta­bil­ity and declut­ter­ing effects of dig­i­tal music, many refused to upgrade their old DVD hard­ware, wait­ing instead for vision­less indus­try to slowly break down the sacred gate that blocked the mar­riage of their tele­vi­sion screen to its nat­ural part­ner, the wire­less inter­net, and watch­ing films on their com­put­ers in the mean­time. Would-be heroes like Apple and Roku have stepped in to pro­vide a wire­less mid­dle ground that con­nects your TV to par­tic­u­lar stream­ing ser­vices, but the idea that a new $2000 wide-screen TV doesn't come with a key­board and a mouse and a chip that can power a web browser (like most cell phones can do) is a trav­esty. Cheap sub­scrip­tion ser­vices to Amazon Video, Netflix and iTunes keep con­sumers' minds off the lat­est vari­a­tion of the same old indus­try fuster­cluck: con­trol­ling how con­tent is viewed and charg­ing for chan­nel access.
On to eBooks. It's Kindle roar­ing through the straight­away, but what's this? Nook is pulling up from behind and wait…it can't be…Apple's in the mid­field again rein­vent­ing the course again. The book jock­eys are faced with tough choices: Kindle, Apple, Kobo, Nook or Google? Predicting which horse the fans will be bet­ting on this month is a tough call. Of course, you can bet on all the horses, but we know who's really going to win. Meanwhile, all these eBook for­mats just stream the text into the reader; all the artistry is lost. A more vision­ary music indus­try would have found a bet­ter way to pack­age the next evo­lu­tion of its prod­uct. A more vision­ary pub­lish­ing indus­try would have devel­oped a more sophis­ti­cated dig­i­tal book for­mat capa­ble of repro­duc­ing truer repli­cas of a real book than 1980s HTML bun­dled into a zip file and rela­beled "ePub."
Ironically, we've had com­put­ers on our desks for years that can man­age hun­dreds of open and pro­pri­etary file for­mats, but our dig­i­tal book libraries are tied to the ven­dor of our eReader hard­ware to ensure a long life of loyal and obe­di­ent com­pli­ance. Yes, you can read your kin­dle books on almost any generic device, but if you want to switch to Kobo or Nook, your library is toast. Ebook for­mats may not do much to repro­duce the aes­thet­ics of an engag­ing book, but for pub­lish­ers, this model ensures that the old model of weld­ing con­tent to its stor­age medium can be lever­aged against us.
To address the mat­ter at hand—digital prop­erty rights—the dis­cus­sion must free itself from the mythol­ogy that an eBook is a book. Like the stream­ing edi­tion of The Wizard of Oz or an MP3 copy of Frank Zappas' The Illinois Enema Bandit, the eBook ver­sion of DRM for Dummies is not a book or a film or a record; it's a piece of soft­ware. The rights per­tain­ing to pub­lish­ing and con­sum­ing a piece of dig­i­tal media are largely irrel­e­vant to its tan­gi­ble, phys­i­cal coun­ter­part. You may choose to call it an "eBook," and you may dig­i­tally manip­u­late its con­tents to make it look like a real book; you may even offer it as a dig­i­tal alter­na­tive to a paper book con­tain­ing the same text, but when we start to believe our own hype, we're no bet­ter than the big media pub­lish­ers who believe theirs.
When it comes to defin­ing prop­erty rights, an eBook is not a book. Nobody asks to bor­row your copy of Microsoft Office. They might buy your license from you, but you can still cheat and keep a copy on your machine. It's like touch­ing your can­dle wick to my flame. I'm sup­posed to snuff mine when yours is lit? Yeah, right. We may believe the abil­ity to sim­u­late lend­ing an eBook makes it that much more "book­like," but soft­ware is not an inher­ently lend­able com­mod­ity because unlike a book, it's an inher­ently dupli­cat­able commodity.
In this Brave New World, the idea that writ­ers and other cre­ators are enti­tled to make roy­al­ties from their con­tent is fun­da­men­tally nec­es­sary. The idea that all peo­ple should have access to con­tent in stan­dard, func­tional for­mats is fun­da­men­tally good. But we need look no far­ther than the last two decades of the internet's evo­lu­tion to see a bril­liant and func­tional world where con­tent is sold, licensed and given away by indi­vid­u­als and pub­lish­ers of all sizes and means. Open source projects min­gle with com­mer­cial offer­ings in the great infos­tream. Each pro­ducer is free to define their own terms, for­mats, desired lev­els of secu­rity and tech­nol­ogy strat­egy. The idea that writ­ers and cre­ators must choose a pub­lisher, a dis­trib­u­tor and a retailer is as much a lie as the notion that an eBook is a book.
Ultimately, we're faced with choos­ing a rights man­age­ment strat­egy that imposes the largely irrel­e­vant rules of tan­gi­ble books on a piece of soft­ware to the ben­e­fit of a pub­lish­ing indus­try that refuses to rec­og­nize its own obso­les­cence, or we must stand on the equally shaky foun­da­tion of rely­ing on end-users to vol­un­tar­ily act respon­si­bly and eth­i­cally with regard to how they con­sume and share a dig­i­tal copy of an author's work. Publishers and con­sumers are in the same boat, and both of its masts are rot­ten at the base
A bet­ter solu­tion lies in a stan­dard­ized, publicly-available rights man­age­ment sys­tem and a stan­dard­ized, well-conceived device-independent for­mat for eBooks. Possibly, it could be man­aged by the copy­right author­ity with which one reg­is­ters one's work and then coör­di­nated inter­na­tion­ally. Think of it like mak­ing your ISBN num­ber more like a domain name that can be parked or attached to a cre­ative work. As a web devel­oper, I don't have prob­lems con­trol­ling who can see my clients' con­tent and I have many strate­gies for chan­nel­ing or restrict­ing its con­sump­tion. Why should an eBook be any dif­fer­ent from a web­site? Certainly there are tech­ni­cal con­sid­er­a­tions related to hosted vs. down­loaded mate­r­ial that are beyond the scope of this dis­cus­sion, but the prob­lem won't get solved until con­sumers can be shel­tered from the cross­fire while big pub­lish­ers bat­tle to stay alive in a world where they're no longer necessary.
There is a place in our world for big pub­lish­ers, mega-retailers and pro­pri­etary for­mats, but while we debate the mer­its of a fun­da­men­tally sound eBook Users' Bill of Rights (note the usage of "users'" rather than "read­ers'"), we must con­sider that as con­sumers, it is ulti­mately up to us to choose who is granted the author­ity to define, police and arbi­trate them. Until a respon­si­ble choice is made, such dis­cus­sions are no more use­ful than debate over whether you should pur­chase a Kindle or an iPad; they only dis­tract us from real­iz­ing what we've already sold.