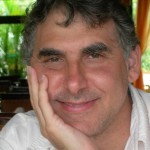 Dave Bricker, MFA  is a publishing consultant and a professor of graphic design in Miami, Florida. In his studio, founded in 1995, he produces rich, experiential websites, provides marketing consultation to clients with vision, integrity and excellent offerings, designs beautiful book covers, and convinces computers to imitate classic hot metal book typography.
He began living aboard cruising sailboats at the age of 18, spent several years solo cruising in the Bahamas during the late 1980s, and crossed the Atlantic on a wooden yawl in 1991. During these voyages, he encountered some of the unusual people, places, and circumstances that color his stories.
Dave Bricker is the author of The Dance, Waves, Currents, The One-Hour Guide to Self-Publishing, and The Blue Monk, a colorful memoir of his solo sailing experiences.
He is currently working on something really cool related to eBooks that marries design and technology in unique and engaging ways.