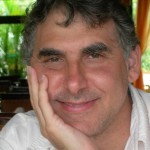 Born in October, 1964, Dave Bricker is professor of graphic design in Miami, Florida where he lives with his wife and daughter. In his design studio founded in 1995, he produces rich, experiential websites that are "a little different," and provides marketing consultation to clients with vision, integrity and excellent offerings.
An avid guitar player with a minor in jazz guitar, he has worked with some of the World's premier instrument makers, and through these associations, has had the unique opportunity to develop instruments that combine his loves of design and music.
A fan of adventure and travel, he began living aboard cruising sailboats at the age of 18, spent several years solo cruising in the Bahamas during the late 1980s, and crossed the Atlantic on a wooden yawl in 1991. During these voyages, he encountered some of the unusual people, places and circumstances that color his stories.
An inveterate do-it-yourselfer, Bricker writes, produces and designs his own books and publishes them through his private Essential Absurdities Press.
In February, 2011, he released "Waves," a continuation of the story of the protagonist from his first novel, "The Dance," that follows him from Florida to the Caribbean on a cruising trimaran. He is nearing the completion of a third novel "Currents," is writing a colorful memoir of his own sailing experiences, and developing an electronic book conceived to painlessly teach left-brain programming skills to right-brained artists.