From an Internet writer's forum: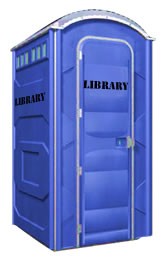 Comment: I see self-publishing as vanity publishing. There's a reason there's a traditional route; it really does sift out the crap. I may not be a published author, but I'll be damned before I chuck in the towel to push out my writing through self publishing. I did not spend years honing my craft, get myself into all sorts of tight corners just to get my stories, and lose all those late night hours redrafting just so my work can get lost in the crowd.
My Response: I'm a proud self-publisher. Self-publishing is, by definition, not vanity publishing. I own all my own rights and my own ISBN numbers. My press is a legal entity. I also got myself into all sorts of scrapes to get my stories and I spend hours honing my craft every day, seven days a week. It's 5:30AM as I finish this. I challenge any traditional press to exceed the quality of the work I produce.
Traditional presses do indeed filter out some crap, but to assume everything not vetted by a Big Six publisher is crap is the literary equivalent of racial prejudice. Major marketing vehicles like the New York Times Book Review serve only the upper crust of the publishing world, defining by exclusion who "the crowd" is. Continue reading →