Scam Alert: Editors Beware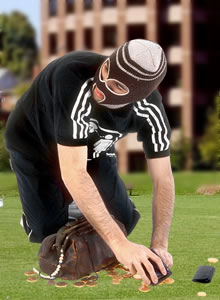 I was contacted by a not-so-articulate person who requested my services as an editor for an article. I looked at his document and found a ten-page paragraph that needed plenty of help. I wrote a polite response explaining that this piece would be time-consuming and expensive to edit, but the author seemed intent on having me rewrite it. He readily agreed to my price, explained his 30-day deadline and told me he'd send a check.
If this doesn't sound suspicious to you, it should.
Pay attention and stay safe.
In a relationship-based business like editing or design, a new client is almost always a referral.
"I saw the work you did for Jim Smith. I was wondering if you …."
If you publish a website or blog, introductions invariably start with,
"I read the article you posted about …."
This client volunteered no point of reference.
When I receive a manuscript that needs major surgery, I encourage the writer to do the rough cleanup on his own. Editing is valuable, but not cheap. Why pay someone to do what your spelling and grammar checker is already screaming at you about? Tools like AutoCrit.com save money and improve your writing. You can't replace a professional editor, but you can do quite a bit to prepare yourself to maximize the value of your relationship with one.
Real clients want to know what they're getting for their money. They don't want to spend it; they want to invest it. In this case, the client showed little interest in the piece being edited. He volunteered no information about the type of publication, audience, or intended result of the piece. He agreed to a high price without questions or negotiation.
I work with clients all over the world. The farther away they are, the more likely it is they'll pay me electronically. I get paid by check about 10% of the time; the rest is PayPal. If your check doesn't clear, my bank charges me—the victim—a $35 fee. I accept checks from trusted sources only. Usually, I'm paid by check when a company's bookkeeping department is managing transactions, or by older people who tend to be less engaged with Internet-based payment options. When possible, I take them to the sender's bank and cash them directly.
The next day, my "new client" wrote to tell me the payment was on its way, but that it had "accidentally" been written for an amount much larger than the agreed price. Would I be so good as to deduct my fee and send back a check for the difference?
Here's how the scam works:
The operator sends a fake check—one that looks authentic. You deposit that check and it clears quickly. With cash in hand, what do you have to lose? You send the operator his "refund" (less your generous compensation) and move on with your life. Weeks later, the bank detects the fraud and pulls the money out of your account. You're officially hosed.
I politely explained I'd be happy to return the check and wait for a new one to be cut for the correct amount.
I received a final email appeal about how important the money was to the "starving children," but  when I assured him I would not be writing checks to anyone, he disappeared.
This scam is widespread; not only editors are being targeted, but remember: excellent work is done for excellent clients, and if it sounds too good to be true ….