Pubit! – Barnes & Noble's Nook™ Store

Friday night, I found an invitation to submit books to Pubit!™ lodged in my spam filter. I joined Barnes and Noble's mailing list a few months ago, but had no idea when their eBookstore would open to indy publishers wishing to publish for their Nook™ eReader device. I'm particularly interested as the platform was available previously only to major publishers (who are unlikely to offer books about self-publishing.)
The submission process is friendly—better than most—and there's a good preview application that lets you see how your book will look on the Nook™ device. Nook™ books can also be viewed on iPad and iPhone devices, so readers aren't limited to using proprietary hardware. There is a note on Pubit!™ book listing pages that says, "Note: Not compatible with Mac and Blackberry Clients." Notwithstanding the fact that the average reader is unlikely to know that "client" refers to a piece of computer hardware or software that sends and receives data and has noting to do with customers, Mac and Blackberry users should probably look at purchasing their eBooks elsewhere.
The good news was I was able to take ePub files I had prepared for Apple's iTunes Bookstore and submit them without modification or hassle. I don't know how forgiving the Pubit!™ store is about receiving perfect ePub files, but Apple's iTunes Connect software is extremely picky and can return long lists of cryptic error messages. It might be a good precaution to pass the "Apple test" before submitting to other eBook stores that want ePub submissions. (Interestingly, when I tried to submit the ePub version to the Amazon Kindle store, it wouldn't accept my file. I had to upload a PDF, download a converted-to-HTML version, edit separately and then resubmit the HTML.)
Like Amazon's Kindle and the iTunes Bookstore, Pubit!™ offers an option for Digital Rights Management (DRM) which is important if you don't want the world making free copies of your books.
Pubit!™ gives authors a place to post short excerpts from reviews. All my reviews are on Amazon so I wasn't sure if they would allow me to keep them (they do ask where each review was published), but to their credit, they did post them. It would be nice if they allowed more space to share unedited reviews rather than just excerpts.
One disappointment was how my cover upload appeared as a thumbnail image after I submitted it. Maybe it will look better in the actual Pubit!™ Store, but it sure got shredded in the submission window.
Authors will certainly be interested in the business end of the Pubit!™ platform. Here are the basic terms and conditions.
Publisher will set a List Price for each eBook between $0.99 and $199.99.
Publisher will be paid a royalty off the List Price according to the following terms:
For eBooks with a List Price at or between $2.99 and $9.99—65% of the List Price
For eBooks with a List Price at or below $2.98 or at or greater than $10.00 (but not more than $199.99 and not less than $0.99)—40% of the List Price

Publisher will, at all times, ensure that the eBook List Price:
Is no greater than the eBook's List Price at any other retailer, website, or sales channel.
Is no greater than the eBook's print edition (if applicable).
Complies with the minimum and maximum pricing policy as stated above.
Sample royalty calculation:

List Price: $9.99 – Publisher Royalty: $6.49
List Price: $20.00 – Publisher Royalty: $8.00
I'm surprised they're not meeting Amazon's 70% royalty, but the eBook game is a new one and market adjustments are always possible.
The content policy is pretty standard material—no porn, no libel, no plagiarism, etc.
The information that describes your eBook (Product Data) is also subject to our Content Policy. Please note the following data points that are not permitted in your Product Data:
• Hyperlinks of any kind, including email addresses.
• Request for action (i.e.: "If you like this book, please write me a review.").
• Advertisements or promotional material (including author events, seminars, etc.).
• Contact information for the author or publisher.
Barnes & Noble Offer the following programs as Pubit!™ advantages:
Read In Store:
Read In Store allows customers in Barnes & Noble bookstores to browse the complete contents of eBooks available in our eBookstore at no cost for up to one hour on any given day and browse through as many eBooks that have the Read In Store option as they wish. This innovative program will provide further exposure for your eBooks, offering customers the chance to sample the entire contents of the book for up to an hour.
(I see the merits of this, but my book was written to be read in an hour!)

Sharing eBooks with LendMe Technology:
Only Barnes & Noble offers customers the ability to share eBooks with friends through its breakthrough LendMe™ technology. Customers can share LendMe-eligible eBooks once, for up to 14 days. Customers can send a lend offer and a personal message about the eBook they are offering to any friend's email address. The lend offer is available for 7 days and can be accepted or declined on a NOOK or online.
The recipient can easily download the book to their NOOK eBook Reader or on a computing or mobile device enabled with free NOOK eReading software. While the eBook is with the recipient, the customer who shared the title will not have access to it. All eBooks offered via PubIt! will be eligible for sharing through the LendMe program and noted with the LendMe icon.
Samples:
Barnes & Noble customers have the option to try before they buy. For all PubIt! eBooks, interested customers will be able to download up to 5% of the eBook to their NOOK or to their computing or mobile device enabled with free NOOK eReading software. From the sample, it is easy for customers to buy the full eBook and download it in seconds.
It supposedly takes 24-48 hours to have my books accepted (or not) int0 the Pubit!™ Store, but mine showed up as "for sale" the same day I posted them (though the cover image still showed as "unavailable" that next day). All the line breaks were stripped out of my book descriptions. I tried adding some HTML formatting after previewing the books, but got a "technical difficulties" message and lost my edits. However, B&N's example description text shows bold and italic-formatted text. I imagine this will get resolved quickly, but a simple message encouraging or discouraging HTML-formatted or rich text (or the inclusion of a rich text editor) would be a time saver.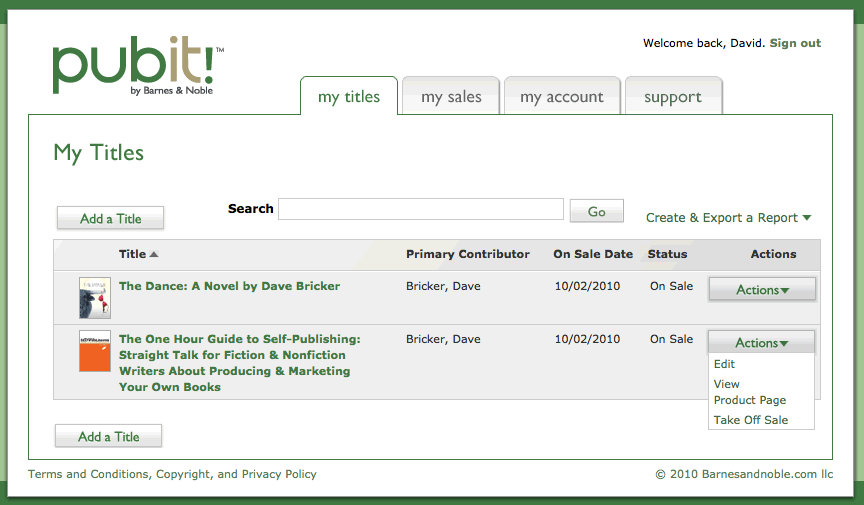 Thumbnail images are still "unavailable" at the time of this writing, but I suspect Pubit!™ wants to personally view images posted on their site to ensure people don't post "unacceptable" content. You can view book listings for The Dance or The One Hour Guide to Self-Publishing within the Barnes & Noble site.
For what it's worth, Pubit!™ is another distribution channel that doesn't require much time or labor to take advantage of. What ultimately remains to be seen is whether the Pubit!™ platform will have any significant market impact, if Amazon's Kindle™ will remain king or if Open Source players will push us past proprietary standards and allow our eBook libraries to become vendor-independent.