November Writing Events You Don't Want To Miss
contributed by Nicole Stansley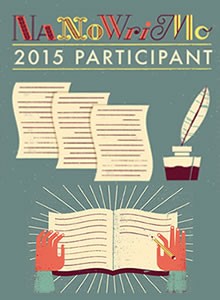 November is National Novel Writing Month and National Lifewriting Month. It's stuffed with writing events that engage and excite beginners and skilled authors alike.
November 1–30, National Novel Writing Month (NaNoWriMo). The goal is to write a 50,000-word novel by the end of the month. Register on the NaNoWriMo website and give your novel a title—two simple steps. You cannot write your novel on the website, but it is possible to submit an excerpt.
The NaNoWriMo initiative involves gamification (earning achievement badges for submissions), lists numerous local events, and connects you with communities that inspire and support your creative writing efforts. Don't underestimate the power of those meetings; I personally wouldn't have been able to finish my writing last year without community support and advice. And if you are a writing master, you will be warmly welcomed at local events. Subscribe to the Writing Advice newsletter. Last year such respected authors as Neil Gaiman, Jim Butcher, and Garth Nix shared their thoughts.
November 1–30, Family History Writing Month. Writing family history is an extremely personal endeavor, and for me it is also an opportunity to spend quality time with my family. Your closest relations are often full of mystery; you can easily live your life without knowing their opinions, stories, or passions. Preserving their history through writing is an unconventional way to show your love to dearest relatives and unite your family. It can become a Thanksgiving tradition as it has in my family, and you might find an unexpected story idea while researching Grandma's early years.
November 15 is I Love To Write Day. "The World's Biggest Party For Writers" has become a national writing festival, celebrated in 30,000 schools across the United States. The event was created by Delaware author John Riddle 13 years ago to "have people of all ages spend time writing." Participants write anything they wish — novels, poems, greeting cards, essays. The form is secondary; what matters is to write. Visit your nearest library or school that hosts special activities, or sit with a cup of coffee in a place that inspires you and celebrate on November, 15th.
Many writers don't need public events or special dates to inspire creative action; some work better alone and don't want distractions like meet-ups. But those with polished skills can help the next Virginia Woolf craft a novel. Brainstorm, discuss ideas, edit, and encourage beginners. These events are chances to improve your craft and receive valuable critiques, break free from creative block and lack of motivation, and gain new friendships. And NaNoWriMo winners get numerous, generous discounts for e-book creation and distribution, publishing packages, and useful apps. 250 traditionally published novels have been generated during the years since NaNoWriMo began. Yours could be next.
---
About the Author:
Nicole Stansley is a content marketer for College Paper and an idle writer. She enjoys sharing her various passions through the written word.