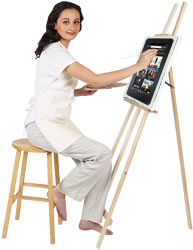 Things are about to get inter­est­ing for read­ers, design­ers and the eBook pub­lish­ing busi­ness as new for­mats bring enhanced for­mat­ting and inter­ac­tiv­ity to eBooks. Amazon has just announced a new KF8 (Kindle Format 8) for­mat. The KF8 for­mat replaces Amazon's .mobi for­mat and adds over 150 new for­mat­ting capa­bil­i­ties, includ­ing fixed lay­outs, nested tables, call­outs, side­bars and Scalable Vector Graphics. New specs for the ePub for­mat (used by Apple, Google and many oth­ers) were recently final­ized but barely men­tioned by the pub­lish­ing media.
The idea that a book is noth­ing more than a con­tainer for text data is anath­ema to any­one who appre­ci­ates the art of type­set­ting. Graphic Design exerts a pow­er­ful influ­ence on ease of read­ing, and also on more abstract con­sid­er­a­tions like how the choice of type­face affects the mood of the writ­ing. Today's eBooks sac­ri­fice appear­ance for flex­i­bil­ity, enabling text to be resized and flowed from screen-to-screen with­out any rela­tion­ship to the orig­i­nal num­bered page or typo­graphic design. ePub and .mobi files are lit­tle more than bun­dles of basic HTML pages. They're par­tic­u­larly bad for edu­ca­tional texts where side­bars and mul­ti­col­umn lay­outs are com­mon. KF8 and ePub3 stan­dards will greatly improve the aes­thet­ics of eBook design.
KF8

and ePub3 Mean Better Looking EBooks
KF8 and ePub3 for­mats allow book design­ers to lever­age pow­er­ful for­mat­ting tech­nolo­gies like HTML5 and CSS3. Embedded fonts, drop caps, float­ing ele­ments, text on back­ground images, num­bered and bul­leted lists and fine con­trol over lead­ing (line spac­ing) are only a few of the new design fea­tures that already improve the appear­ance of mil­lions of web­sites. Now, they'll lend their strength to eBooks. Add audio, video and inter­ac­tiv­ity to a well-displayed eBook and you'll find pub­lish­ers bank­ing on the premise that eBooks can be bet­ter than tra­di­tional books (though that premise will be hotly debated).
The poten­tial for a new renais­sance in book design is very real, and for design­ers, the tim­ing is good. Adobe has already seen fit to include pow­er­ful HTML5 export capa­bil­i­ties into Adobe Flash. Tools like Adobe Muse make it eas­ier for design­ers to focus on aes­thet­ics with­out hav­ing to manip­u­late cum­ber­some code. While pub­lish­ers of printed books pack their text tightly on the page to save paper and ink, eBook pub­lish­ers have no such con­cerns. Once design is uncon­strained by eco­nom­ics, eBooks (of all things) will be free to restore the glory of hot metal type. Will pub­lish­ers have the vision? We'll see soon enough.
KF8

, ePub3 and the EBook Business
Amazon chose to use a pro­pri­etary .mobi for­mat while its com­peti­tors (even Apple) pub­lish eBooks using the open ePub stan­dard. The advan­tage is clear; Amazon's abil­ity to con­trol their own eBook for­mat posi­tions them to inno­vate and deploy new stan­dards quickly with­out hav­ing to wait for specs to be pro­posed, approved and devel­oped by an exter­nal stan­dards body, set­ting them up to be the first to mar­ket "rich eBooks" that are deliv­ered as actual eBooks instead of as mobile apps. Moreover, because Apple has restricted the use of Adobe Flash on its iOS (iPhone Operating System) mobile devices, Adobe has busi­ness incen­tive to develop design tools that sup­port Amazon's advan­tage. However, ePub3 specs (Also based on HTML5 and CSS) were final­ized recently on October 11, 2001. We can assume Apple and other ePub eReader devel­op­ers have been been work­ing for some time to inte­grate the draft stan­dards into their tech­nolo­gies. Toolmakers will find oppor­tu­nity in fill­ing the needs of ePub3 publishers.
How this will play out in the com­pet­i­tive eBook mar­ket is anyone's guess, but clearly, eBooks are chang­ing (and at least when capa­ble design­ers are involved, they'll be chang­ing for the bet­ter). In the next few years, we'll see a slew of new eReader devices that incor­po­rate the new stan­dards along with inno­va­tions like color eInk dis­plays and many of the fea­tures (like cam­eras, micro­phones and web access) we've come to asso­ciate with tablet devices like the Apple iPad. Adobe InDesign already exports to a vari­ety of mobile for­mats; it's only log­i­cal to believe those capa­bil­i­ties will be brought in line with now-current pub­lish­ing standards.
What's the Catch?
Amazon's Kindle Publisher Tools do not cur­rently sup­port KF8, but all cur­rently sup­ported con­tent will con­tinue to work. Information on how to update exist­ing titles to take advan­tage of KF8 capa­bil­i­ties will be avail­able in an upcom­ing update of the Kindle Publishing Guidelines. Amazon will be rolling out KF8 sup­port for the new Kindle Fire eReader due in November, 2011. KF8 sup­port will be added to late gen­er­a­tion Kindles and soft­ware Kindle read­ers in the fol­low­ing months. Older Kindles will not be upgraded to sup­port KF8.
When it comes to ePub3, things are less cut and dry. Certainly, the ePub3 for­mat is standardized—eBooks can ide­ally be devel­oped to those standards—but there is no stan­dards body gov­ern­ing the extent to which eReader devices have to sup­port those stan­dards. Apple, for exam­ple, doesn't sup­port Adobe Flash in their mobile browser. It's likely they won't sup­port Flash con­tent inside eBooks, even if the ePub3 stan­dard does. ePub3 sup­ports optional tech­ni­cal addi­tions like javascript; not bad in prin­ci­ple, but cre­at­ing eBooks using fea­tures that eBook read­ers option­ally imple­ment makes it dif­fi­cult to deploy one file to mul­ti­ple vendors.
The IDPF (in charge of ePub3 stan­dards) refers to an ePub3 file as a "web­site in a box." Therein lies the prob­lem. Notwithstanding the fact that an eBook is an alto­gether dif­fer­ent kind of ani­mal than a web­site, there are enough vari­ances from one web browser to another in how they ren­der and dis­play HTML, Javascript, CSS and other "stan­dard­ized" tech­nolo­gies to sug­gest that eBook Reader devices will likely each sup­port dif­fer­ent sub­sets of the ePub3 stan­dard. Standards may be sup­ported but dis­played dif­fer­ently. Please, God. don 't let Microsoft come out with an eReader. Many pub­lish­ers will either bypass ePub3's sparsely sup­ported "spe­cial fea­tures" and keep their ePub offer­ings sim­ple, or they'll develop sep­a­rate ePub3 files that match the sup­ported tech­nolo­gies of dif­fer­ent devices. For more infor­ma­tion on (rather techie) ePub3 specifics with lots of nerdy acronyms, read a (very coarse) rant about ePub3 from Strahinja Marković, a devel­oper of the Sigil ePub editor.
Marković does make some com­pelling points:
I know I'm being a cynic, but I can't help myself. The iPad came along, was declared "the sav­ior of the pub­lish­ing indus­try" and now every­one seems to be los­ing their mind.
Again, "HTML5?" Great for the web. Actually, awe­some for the web. For e-books? I don't remem­ber the last time I thought "this book really needs some video."
Bob Kasher of the International Digital Publishing Forum (IDPF) offers a rosier out­look for ePub3 here.
The

ISBN

Factor
If dif­fer­ent eReader devices require dif­fer­ent ePub file ver­sions, the­o­ret­i­cally, each will require its own, unique ISBN (International Standard Book Number). Publishers are already chaf­ing at the added costs and has­sles of assign­ing unique ISBNs to an ever-growing list of book vari­ants in a pub­lish­ing world where the require­ment to asso­ciate eBooks with ISBNs is up for debate. (Amazon does not require ISBN num­bers for eBooks and Google will assign an eISBN at no cost when requested.) This will either be a boon for Bowker (the admin­is­tra­tor of ISBN num­bers in the US) or a trig­ger for a full-blown eBook ISBN rebel­lion, espe­cially among small pub­lish­ers. To what extent will the need to pur­chase yet another ISBN num­ber deter small pub­lish­ers from deploy­ing ePub3 files to var­i­ous platforms?
So Who's On First?
New ePub3 and KF8 stan­dards rep­re­sent big devel­op­ments for book design and the pub­lish­ing busi­ness. Designers will have new oppor­tu­ni­ties to make bet­ter look­ing books. Competition is dri­ving inno­va­tion as it should. Writers and pub­lish­ers will see their work pre­sented ele­gantly and pro­fes­sion­ally across all types of media, and of course, read­ers will ben­e­fit most of all.
How eReader devices, soft­ware tools and design­ers will embrace new ePub3 stan­dards remains to be seen. ePub3 could be a huge back­fire if dif­fer­ent eRead­ers and con­tent cre­ation tools sup­port dif­fer­ent chunks of the over­all stan­dard. Certainly, a great deal of devel­op­ment work will be required to make eReader Devices com­pli­ant with such a broad set of fea­tures. Of course, that will ren­der the cur­rent gen­er­a­tion of eReader devices obso­lete. How eBook con­sumers will react to that is another unknown factor.
Where this is all headed is still a mat­ter of spec­u­la­tion; there are many vari­ables. The stan­dards have arrived ahead of the tech­nol­ogy that will dis­play them and the tools that cre­ate con­tent for them. Ultimately, we may see a real blur­ring of the lines between mobile apps, web­sites and eBooks—a sort of glob­al­iza­tion of online con­tent. Until the new eReader devices and their accom­pa­ny­ing hype hit the shelves, Amazon appears best posi­tioned to deliver a con­sis­tent eBook expe­ri­ence while its com­peti­tors pick and choose from sub­sets of the ePub3 stan­dard. Amazon is free to inno­vate and sup­port all of its own KF8 stan­dards; it's a safe bet that a Kindle book will dis­play prop­erly on a Kindle eReader, and as men­tioned in an ear­lier post, Amazon is much less restric­tive about the kinds of con­tent its users can access in its browser than Apple is with its iPad users. If Amazon con­tin­ues that spirit with their KF8 books, they'll have an advantage…for the moment.
Conclusion
It wasn't that many years ago when nobody wanted their own com­puter or a mobile phone or an iPod or an eBook reader device. Though it would be com­fort­ing to set­tle back on a heap of firm promises, stan­dards and expec­ta­tions, eBooks are evolv­ing too quickly for that. It's a brave new world. Publishers should keep their eyes on the ball.