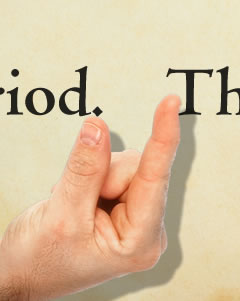 Few sub­jects arouse more pas­sion among writ­ers and design­ers than the debate over how many spaces should fol­low a period. If you adhere to a style man­ual, you'll be hard-pressed to find one that doesn't spec­ify a single-space. Chicago and MLA spec­ify one—debate ended—but the pop­u­lar argu­ments in sup­port of the single-space after a period (argu­ments I must con­fess to hav­ing per­pet­u­ated in pre­vi­ous writ­ings) turn out to be mostly apoc­ryphal. The single-space after a period is a sim­ple style evolution—and it's a fairly recent one. This leaves tra­di­tion­al­ist type­set­ters like myself in some­thing of a quandary; staunch advo­cates for the single-space must ques­tion whether their "clas­sic" design work is authentic.
This arti­cle sur­veys book typog­ra­phy from the 1700s to the present. The sur­vey is small and the exam­ples come from var­i­ous pub­lish­ers in dif­fer­ent parts of the world, but the trends revealed are, at least, a cat­a­lyst for deeper explo­ration. As a "core sam­ple," the images sug­gest a cer­tain path of typo­graph­i­cal evolution.
One Space After a Period: The Mythology
The type­writer came of age dur­ing the late 19th cen­tury. The mech­a­nism relied on gears that advanced the car­riage a sin­gle gear tooth each time a key was pressed. This means that a let­ter i occu­pied as much paper as a let­ter w; non-proportional type­faces were devel­oped to close gaps that would be more obvi­ous if a tra­di­tional type­face was used. Still, there was no way to nest let­ters into one another.

Proponents of the single-space argue that dig­i­tal type­faces have appro­pri­ate spac­ing already built into each let­ter­form. Quality type­faces have exten­sive kern­ing tables that gov­ern the default spac­ing between dif­fer­ent com­bi­na­tions of glyphs (this is part of the "you get what you pay for" fac­tor asso­ci­ated with font soft­ware; free fonts are usu­ally either stolen or lack the exhaus­tive work needed to pro­duce ele­gant kern­ing with­out exten­sive man­ual adjust­ment). Adding a double-space goes against the type designer's inten­tions as spac­ing between a period and the fol­low­ing sen­tence has already been taken into consideration.
The argu­ment for the single-space sounds com­pelling. The claimed tran­si­tion from type­writer text to dig­i­tal typog­ra­phy cre­ates an "easy out" for those who were taught to double-space in the days before com­put­ers. But though the sup­posed his­tory is log­i­cal, book design­ers and print­ers were using pro­por­tional type­faces and wide spaces long before the type­writer entered the scene.
Moreover, the choice of whether or not to use a double-space on a type­writer was always, itself, a mat­ter of style and con­ven­tion. A period typed on a type­writer will print on the left side of the space and leave plenty of room to the right before the next sen­tence begins. The non-proportional dig­i­tal type­face argu­ment is an inter­est­ing dis­trac­tion that ulti­mately fails to either sup­port or dis­cour­age use of the double-space. And the argu­ment that dig­i­tal type­faces have built-in spac­ing lends itself to the notion that writ­ers shouldn't have to type any spaces after a period. Clearly, that's not the case.
Two Spaces After a Period: A Typographic Tradition
A brief note on ter­mi­nol­ogy: the "dou­ble space" (no hyphen) requires two con­sec­u­tive space char­ac­ters to be struck on a key­board. The "double-space" (with a hyphen), or "wide space" is a sin­gle, wide char­ac­ter that's more prop­erly referred to as an "emspace" like its cousin, the emdash.
The fol­low­ing exam­ples show that tra­di­tional type­set­ters (with­out type­writ­ers) used the double-space—actually an emspace—as a con­ven­tion early on. I've cir­cled peri­ods in red along with a few other typo­graph­i­cal odd­i­ties in green. Apparently, a num­ber of typo­graphic ele­ments have been sub­ject to styl­is­tic evo­lu­tion over the centuries.
In Figure 1 (1787), the emspaces are evi­dent in red. Note also (in green) the spaces before the semi­colons and the strange space–colon–emdash com­bi­na­tion (green, upper right) that are no longer seen in today's typography.
Figure 2 (1840s) shows con­tin­ued use of emspaces and con­tin­ued use of the space (green) before the semi­colon. (The sub­ject mat­ter is also of interest).
Figure 3 (1855) shows the styles to be unchanged.
Figure 4 (1876) offers no sur­prises. The wide spaces after peri­ods con­tinue. Clearly this style is no pass­ing fad. When did things change?
Figure 5 (1892) shows the wide space after a period to be alive and well dur­ing the Victorian period. Notice the inter­est­ing hyphen­ation (green) of a word which is now com­pound. (I own a children's book from 1909 that hyphen­ates "today" as "to-day.") The fig­ures reveal sub­tle style changes that define the cor­rect usage and authen­tic appear­ance of their times.
Figure 6 jumps ahead to 1928. Same thing.
Figure 7, a Spanish book cover back from 1959 shows the wide space and an unusual comma after the emdash. As this is a rel­a­tively con­tem­po­rary piece, I don't know if this punc­tu­a­tion is a mis­take, a style con­ven­tion, or accept­able Spanish lan­guage type­set­ting. The space before the first emdash is also unusual.
Figure 8 (1960) is from a book by the poet, E.E. Cummings. Though the poet was known to take typo­graph­i­cal lib­er­ties, this looks like straight­for­ward use of the double-space.
And then, in 1961, things begin to change (fig­ure 9). A wider sur­vey will likely reveal the style change tak­ing place over sev­eral years and at dif­fer­ent times in dif­fer­ent places, but I found no exam­ples of single-spaces being used after peri­ods prior to 1960.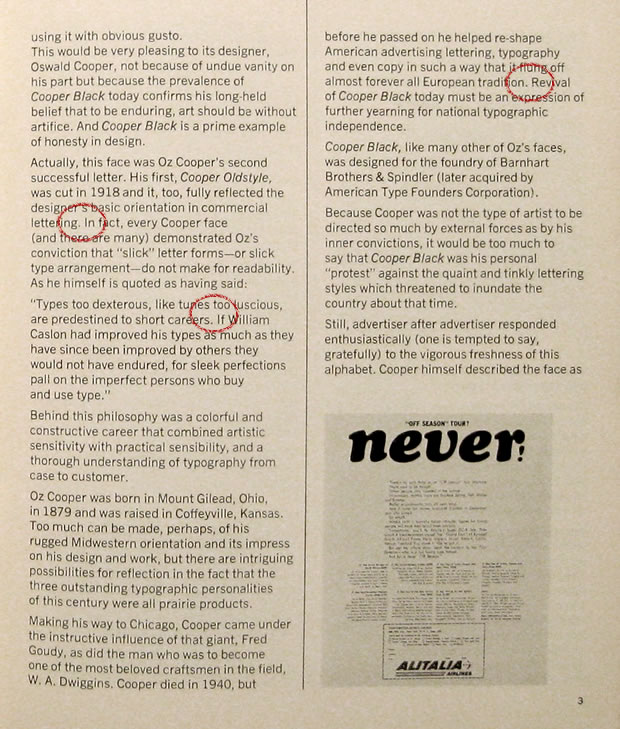 Figures 10 and 11 (1963 and 1964 respec­tively) are notable because the type is fea­tured on graphic design jour­nals of that time, sug­gest­ing that the design com­mu­nity had accepted the single-space as a standard.
Could it be that the single-space was adopted by the book indus­try as a paper-saving mea­sure? Though it existed as early as the mid-19th cen­tury, the paper­back book turned lit­er­a­ture into a mass-market com­mod­ity dur­ing the 1930s. Publishers devel­oped huge dis­tri­b­u­tion chains that required print runs of tens of thou­sands of books; type size shrank along with lead­ing (line spac­ing) and page mar­gins. Mass-deployment by the pub­lish­ing indus­try would explain the rapid accep­tance of a spac­ing design that ran con­trary to cen­turies of tradition.
Single-space or double-space After a Period?
The style, since about 1960, has been to use a single-space after a period; it's fair to say this is the work­ing typo­graphic stan­dard. The adop­tion of that stan­dard by major style man­u­als more or less cod­i­fies the single-space into law. And if you have any doubt, check your own book­shelf; you'll be hard-pressed to find text with double-spaces after periods.
Contemporary typog­ra­phers and read­ers are accus­tomed to tighter text. The period and the fol­low­ing cap­i­tal are con­sid­ered suf­fi­cient to alert the eye that a sen­tence has ended and a new one is about to begin. Designers tuned to the single-space stan­dard see gaps in the text that dis­turb the visual flow.
But the double-space is a tra­di­tion that abruptly faded not so long ago—certainly within the life­times of many of today's active writ­ers. Though no longer in stan­dard use, the emspace may be a sim­ple sac­ri­fice to indus­try. Given that con­text, along with the facts that type­writ­ers and dig­i­tal typog­ra­phy are largely irrel­e­vant to the dis­cus­sion, it becomes dif­fi­cult to argue that the double-space is sim­ply "wrong." It's not dif­fi­cult to imag­ine that typog­ra­phers and read­ers once looked upon those gaps as wel­come sen­tence sep­a­ra­tors. Designers who wish to pro­duce authen­tic his­tori­cist work should con­sider using the double-space after a period.
Your type­set­ter will remove double-spaces from your man­u­script; that's a sim­ple fact. Though writ­ers are encour­aged to unlearn the double-space typ­ing habit, they may be heart­ened to learn that intel­lec­tual argu­ments against the old style are mostly con­trived. At worst, the wide space after a period is a vic­tim of fashion.
Addendum
Several read­ers have sug­gested that my post-1961 exam­ples are left-justified while all the pre­ced­ing exam­ples are full-justified—not a fair comparison.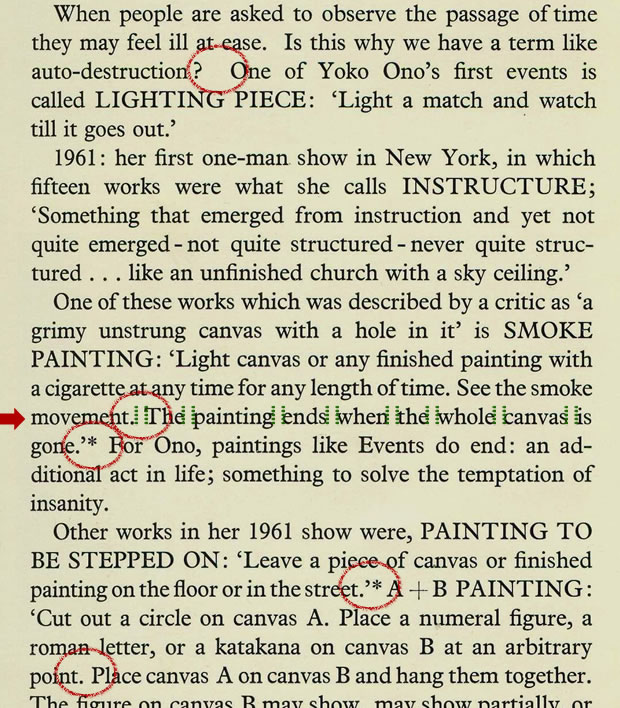 In Figure 12 (1966) above, the space widths vary but they are con­sis­tent across each line (except for one emspace after a ques­tion mark). In the line marked with a red arrow, I inserted iden­ti­cal pairs of green lines into each space. The spaces, even after adjust­ment to accom­mo­date full-justification, are clearly shown to be sin­gle spaces.
Likely, the "mete­orite" that sud­denly ended the long rule of the emspace "dinosaurs" was Phototypesetting, a tech­nol­ogy that rapidly dis­placed hot metal type dur­ing the 1960s in much the same way that "desk­top pub­lish­ing" took over dur­ing the late 1980s. The emspace was not a vic­tim of fash­ion or indus­try; tech­nol­ogy was the cat­a­lyst for rapid change.
---

As this arti­cle receives sev­eral hun­dred vis­its every day, I'd be remiss if I didn't refer read­ers to Thomas Fine's excel­lent arti­cle, Sentence Spacing: A Typographic Counter-Revolution for an in-depth expla­na­tion of the tech­ni­cal ori­gins of spac­ing conventions.