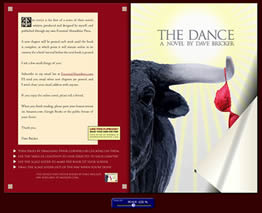 Note: This book scaler is a semi-finalist entry in the 2011 Adobe Design Achievement Awards Education Category.
Flip­books and page turn­ing effects have been around for years; a vari­ety of flash plug-ins, con­ver­sion ser­vices and source files have made them acces­si­ble to every­one. Though print design­ers have been able to export flip­books directly from Adobe inDe­sign since ver­sion CS4, the tuto­ri­als and sam­ple files here will help you get the most from the effect.
Along with a set of video instruc­tions on how to fine-tune the InDesign export process to pro­duce more attrac­tive results, I've devel­oped a "book scaler" in flash that allows adjust­ment of a book's size rel­a­tive to the screen. An "autoscale" fea­ture fits the flip­book to a viewer's screen when it first opens. "Page jump" but­tons have been added for the front and back cov­ers, table of con­tents, next and pre­vi­ous pages or any page num­ber you care to type in. An invis­i­ble "drag area" in the book's gutter/spine allows it to be man­u­ally posi­tioned on-screen. Optional set­tings allow ranges of pages to be hid­den from the viewer. The full source code is avail­able to cus­tomize, but is set up so peo­ple with no cod­ing skills can eas­ily mod­ify it to suit their purposes.
By pop­u­lar request, full-screen capa­bil­ity is now available.
Who is this for?
Designers more com­fort­able work­ing with print than inter­ac­tive media can pro­duce inter­ac­tive port­fo­lios that show their work in an engag­ing way.
Publication design­ers can pro­duce dig­i­tal proofs or include multi-page projects in their port­fo­lio sites.
Authors can release printed works with­out the loss of for­mat­ting or typo­graph­i­cal design asso­ci­ated with export to ePub and sim­i­lar eBook formats.
Authors wish­ing to seri­al­ize their work can do so with­out hav­ing to export a par­tial flip­book file each time they intro­duce a new chapter.
Anyone wish­ing to release an eBook can do so in a sin­gle, freely avail­able for­mat that runs in any browser on any desktop.
Who is this not for?
If you want your book to be view­able on most eReader plat­forms, you'll need to export to Adobe

PDF

, ePub or the pro­pri­etary for­mat asso­ci­ated with a par­tic­u­lar eReader. Though the tuto­r­ial does not cur­rently cover Adobe

AIR

export, it is pos­si­ble to use Adobe

AIR

to cre­ate apps for Android and iPhone/iPad plat­forms. However, if you need your con­tent to be view­able on all mobile browsers, you should con­sider using

HTML

/

CSS

and related tech­nolo­gies as an alter­na­tive to the flip­book format.
Good print design does not always trans­late directly to good inter­ac­tive design. If your con­tent does not lend itself to good "book pre­sen­ta­tion," con­sider a dif­fer­ent design approach. The flip­book effect is fan­tas­tic when used appro­pri­ately, but there's a rea­son most web­sites aren't real­ized in flip­book form. There are many, pow­er­ful and effec­tive aes­thetic direc­tions and tech­nolo­gies; choose the right tool for the job.
Indesign 'Export to

SWF

' flip­books do not include search­able text or text that's avail­able to sight-impaired peo­ple. Though there is an 'Export to Flash' func­tion that allows embed­ded text, the flip­book effect is pri­mar­ily of value as a visual effect.
Download the flip­book scaler files
Included is an Adobe InDesign file set up as a small photographer's port­fo­lio site with inter­ac­tive thumb­nails, a bookScalerAutoSize.fla file that loads the exported inDe­sign file and adds the scal­ing and nav­i­ga­tion fea­tures, and the nec­es­sary HTML and swfObject.js file that load the book into a browser at "full-screen size.
Examples
A port­fo­lio site mockup with inter­ac­tive thumb­nails exported from Adobe inDesign
A seri­al­ized novel that pre­serves the orig­i­nal book lay­out and typog­ra­phy. Though the entire book is online, the page-restriction fea­tures allow only author-specified pages at the begin­ning and end of the book to be viewed.
Recent Updates (Version 7)
By pop­u­lar request, full-screen mode is now imple­mented. A new "enable­FullScreen" para­me­ter is added to the

XML

file. When set to "true," a full-screen tog­gle but­ton appears in the upper right-hand cor­ner next to the "help" icon.

NOTE

: input text is not avail­able in Flash when full-screen mode is active. The page jump box is hid­den and asso­ci­ated con­trols are hid­den or revealed as the screen mode is switched.
The swfObject.js javascript that loads bookscaler.swf into the browser has been updated to the most recent ver­sion along with index.html. This also includes an expressInstall.swf file that will offer to install flash in cases when the plug-in is not available.
If viewed on a tiny screen (like on a mobile device), the help screen will scale to fit the mon­i­tor. It no longer shows up as a tiny rec­tan­gle that can't be read.
Color set­ting con­trols for a pre­loader progress bar are now avail­able in the

XML

. These were installed in ver­son 6 which I never released because it wasn't a sig­nif­i­cant enough upgrade to bother with. Hence, ver­sion 7 fol­lows ver­sion 5.
A bug was fixed where flip­books con­tain­ing video did not cen­ter prop­erly while being resized.The fix assumes there is no video on the cover (first) spread.
Planned Updates
I'm con­tin­u­ally expand­ing on the capa­bil­i­ties of the book scaler and am cur­rently on ver­sion 7. Future ver­sions will include the fol­low­ing features:
Add book­marks and store them in a shared object (the flash equiv­a­lent of a browser cookie).

"

E-Reader mode" for small screens — this will cen­ter the cur­rent page on screen, shuf­fling the spread left and right as "next page" and "pre­vi­ous page" but­tons are clicked so that only a sin­gle page is in view at a time. Help win­dows and nav­i­ga­tion bars will scale to fit the screen.
What does it offer?

Greatly extends the func­tion­al­ity of flash flip­books exported from Adobe InDesign CS4 or higher.
Scale a book between 50% and 200% of its orig­i­nal exported size with­out blur­ring the text with a sim­ple slider control.
Choose to load the flip­book at a pre­set scale or have it auto­mat­i­cally scale to fit the browser win­dow its loaded into.
Adds nav­i­ga­tion but­tons for front cover, back cover, table of con­tents, next page, pre­vi­ous page and table of contents.
Adds a "page jump" win­dow where the viewer can type in a page num­ber and jump to it instantly or at the click of a button.
Easily con­fig­urable with­out open­ing flash by edit­ing a sim­ple XML text file. A clearly writ­ten man­ual is avail­able online and video tuto­ri­als are provided
Allow view­ers to see the entire flip­book or a range of pages at the front and/or back. This is use­ful for offer­ing a new chap­ter at reg­u­lar inter­vals (for exam­ple) with­out hav­ing to export a new ver­sion of the book from InDesign each time.
Jump to any page by pass­ing a query through the URL. In English, this means you can add "?p=25″ to the flipbook's web address and it will open to that page when it loads.
Smart nav­i­ga­tion hints and help screens that remind the viewer to use nav­i­ga­tion fea­tures they've missed after a spec­i­fied amount of time passes. If the fea­tures are used, the hint­ing is disabled.
Full source files for both Flash and InDesign avail­able to down­load, study and customize.
Actionscript 3 source code is fully commented
Learn how to set it up
It's easy to con­fig­ure the flip­book scaler with­out edit­ing in Flash by mod­i­fy­ing a sim­ple file in any text edi­tor. Detailed instruc­tions for con­fig­ur­ing the XML file are avail­able in (of course) flip­book form here.
Video Tutorials
Video tuto­ri­als cover the entire process from set­ting up the inDe­sign file to con­fig­ur­ing the book scaler to set­ting up the HTML file to dis­play your book. The tuto­ri­als can be viewed in the YouTube play list below. All are recorded at 1080p high def­i­n­i­tion, so use the full-screen view­ing to see the fine details.
Why Am I Doing This?
I'm a University graphic and inter­ac­tive design pro­fes­sor, a nov­el­ist and the author of a non­fic­tion book about self-publishing. By devel­op­ing new and bet­ter tools for push­ing my own cre­ative work far­ther into the stream, I empower design­ers and writ­ers to share their work in engag­ing for­mats that don't require royalty-sharing or adap­ta­tion to pro­pri­etary stan­dards that aren't friendly to design and typog­ra­phy. For more infor­ma­tion about my books and writ­ing, see www.EssentialAbsurdities.com.
If you do find the bookscaler use­ful, con­sider pur­chas­ing one of my nov­els or the One Hour Guide to Self Publishing from your favorite online book retailer.
Flipbook

FAQ

&

Technical Notes
Q: Where can I down­load the files?
A: Download the files here.
Q: I can't get the "Front Cover" but­ton to take me to the front cover.
A. Usually, Adobe InDesign exports a flip­book swf file that has en empty first frame. Once in a while, it doesn't and the first page is on frame 1. If that hap­pens, open bookscaler.fla and change the fol­low­ing code in the action­script on frame 1 of the man timeline:
Line 454: Usually sends the timeline to frame 2. We want frame 1 for your book



function showFrontCover(evt:Event) {//used on mouse-out to restore scale text
    scaleControl.outputBox.text = "SCALE " + Math.round(flipbook.scaleX * 100) + "%";
    flipbook.bookLoader.content.gotoAndStop(

1

); 

//CHANGE THIS VALUE TO 1


    showAppropriateButtons();
}



Line 550: Usually checks if the timeline <= frame 2. We want frame 1 for your book



if(flipbook.bookLoader.content.currentFrame <= 

1

) { 

//CHANGE THIS VALUE TO 1


    scaleControl.frontCoverBtn.alpha =.5;
    scaleControl.frontCoverBtn.removeEventListener(MouseEvent.CLICK,showFrontCover);
    scaleControl.prevpage.alpha =.5;
    scaleControl.prevpage.removeEventListener(MouseEvent.CLICK,showPrevPage);
}