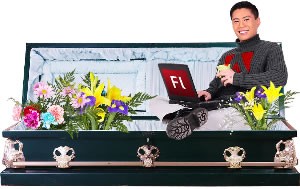 Flash has been one of my favorite tools for over a decade so I was con­cerned when Adobe announced it will no longer con­tinue to develop its Flash Player plug-in for mobile browsers. Flash devel­op­ers are up in arms. Adobe's stock price has fallen. ZDNet says Flash is dead. But while the Wall Street jour­nal calls the move a posthu­mous vic­tory for Steve Jobs, Adobe has been clear and pos­i­tive about their direc­tion. Adobe's aban­don­ment of the mobile Flash Player actu­ally lever­ages them onto Apple's mobile plat­form. New eBook for­mats like ePub3 and KF8 sug­gest a new world of pos­si­bil­i­ties for pub­lish­ers and book design­ers. Flash and other inno­v­a­tive tools will play an impor­tant role in defin­ing the future of con­tent cre­ation. Flash is alive and well.
Plugged-In Flash
Flash has always done things a web browser could only dream of doing on its own. To accom­mo­date the rich visu­als and sophis­ti­cated inter­ac­tiv­ity Flash deliv­ers, Adobe cre­ated an add-on—a plug-in—for web browsers. When the browser is asked to dis­play flash con­tent, it passes the job over to the Adobe Flash Player. Though 99% of desk­top com­put­ers have Flash Player installed, there are lia­bil­i­ties to plug-in based tech­nolo­gies. Apple's iOS mobile oper­at­ing sys­tem refuses to dis­play Flash in the browser. Some peo­ple on secure cor­po­rate net­works can't install the lat­est plug-in until their IT depart­ments get around to deploy­ing the update. Some peo­ple are sim­ply afraid to install any­thing on their com­put­ers at all. The plug-in archi­tec­ture allowed Adobe to side­step the lim­i­ta­tions of the browser. It came with costs but these were out­weighed by many ben­e­fits until mobile technologies—especially Apple's mobile technology—refused to play along.
Flash Unplugged
Adobe's announce­ment didn't say it was dump­ing Flash and going home; Adobe isn't stu­pid and they didn't become a $14 billion-dollar com­pany by giv­ing up. They're not about to walk out on their own party just because the iPhone oper­at­ing sys­tem opted out of sup­port­ing their plug-in. Apple has been whin­ing about web stan­dards for a long time; Adobe lis­tened. They went to the W3C (the World Wide Web Consortium is the Internet stan­dards body) to lobby for new spec­i­fi­ca­tions. Adobe's announce­ment goes on to say:
…HTML5 is now uni­ver­sally sup­ported on major mobile devices, in some cases exclu­sively. This makes HTML5 the best solu­tion for cre­at­ing and deploy­ing con­tent in the browser across mobile plat­forms. We are excited about this, and will con­tinue our work with key play­ers in the HTML com­mu­nity, includ­ing Google, Apple, Microsoft and RIM, to drive HTML5 inno­va­tion they can use to advance their mobile browsers…
…We will con­tinue to lever­age our expe­ri­ence with Flash to accel­er­ate our work with the W3C and WebKit to bring sim­i­lar capa­bil­i­ties to HTML5 as quickly as pos­si­ble, just as we have done with CSS Shaders. And, we will design new fea­tures in Flash for a smooth tran­si­tion to HTML5 as the stan­dards evolve so devel­op­ers can con­fi­dently invest know­ing their skills will con­tinue to be leveraged.
What does this mean in English? Take a look at http://theexpressiveweb.com. The site show­cases a num­ber of things that are already pos­si­ble with HTML5, CSS3 and related standards-based tech­nol­ogy. The CSS Shaders link was also put in Adobe's press release for a rea­son; it hints at impres­sive things to come. Adobe is not only rede­vel­op­ing their own tech­nol­ogy so it can dis­play in any browser with­out a plug-in, they're work­ing directly with the W3C to improve what web browsers are capa­ble of dis­play­ing. Flash con­tent is not going to dis­ap­pear from mobile browsers at all.
What does FlasHTML5 mean for Web Developers?
If devel­op­ers are lucky, they'll be able to keep work­ing pretty much as they always have. Adobe has already show­cased tools like Adobe Muse and Adobe Edge that empower design­ers to work with­out hav­ing to become pro­gram­mers. Adobe Wallaby con­verts flash files to HTML5, CSS and javascript.
The open SVG (Scalable Vector Graphics) for­mat, with roots in Adobe and Microsoft tech­nol­ogy has been around and under devel­op­ment by the W3C since 1999. Though it was eclipsed by Flash and never got the atten­tion it deserved, it will now pro­vide another bridge for Adobe to deliver vec­tor graph­ics with­out a plug-in. All con­tem­po­rary web browsers already offer native sup­port for the SVG format.
Actionscript 3, Flash's own script­ing lan­guage hap­pens to be based on the same ECMA syn­tax that your web browser's Javascript is based on. This sim­i­lar­ity offers Adobe another con­ve­nient bridge for trans­lat­ing from Flash to standards-based content.
Adobe has acknowl­edged that their future lies in mak­ing sure con­tent devel­oped with Flash can be dis­played any­where. By devel­op­ing inno­v­a­tive tools for devel­op­ers while con­tribut­ing directly to the devel­op­ment of Webkit (the open source browser engine that pow­ers Apple's Safari web browser) and work­ing with the W3C, Adobe is strolling right in through Apple's unguarded back door.
Here's a 4-minute video from the Adobe MAX 2011 Conference that describes Adobe's plans for Flash and HTML5.

What does FlasHTML5 mean for Publishers?
New ePub3 stan­dards describe an eBook as "a web­site in a box." Amazon's new KF8 stan­dards are like­wise based on (you guessed it) HTML5 and CSS3. If Adobe is posi­tion­ing con­tent devel­oped with Flash to be dis­played in HTML5-capable browsers, we can assume by ref­er­ence that Flash's rich text for­mat­ting capa­bil­i­ties and sophis­ti­cated inter­ac­tiv­ity will soon be inte­grated into eBooks. It seems only log­i­cal to envi­sion lay­out tools like Adobe InDesign being enhanced to export ePub3 and KF8 files that incor­po­rate beau­ti­ful typog­ra­phy, video, ani­ma­tion, game logic and touch­screen inter­ac­tiv­ity. With eReader device mak­ers scram­bling to sup­port new stan­dards, the pos­si­bil­i­ties for eBook design will be lim­it­less. Sound far-fetched? Watch this short video from Adobe MAX 2011 and see the future of eBook pub­lish­ing with HTML5.
What's in it for Adobe?
Unlike Apple, Google, Amazon etc, Adobe doesn't make money by sell­ing con­tent. They make their profit by sell­ing tools that make con­tent. If con­tent, whether it's deliv­ered through a browser or an eBook is all based on the same tech­nol­ogy, Adobe's job just got a lot eas­ier; they'll have fewer for­mats to develop for. Millions of design­ers and devel­op­ers will update their soft­ware tools. They have a lot of devel­op­ment work to do, but this is an absolute wind­fall for Adobe—hardly the crush­ing loss the media is paint­ing it as. Moreover, Adobe is shift­ing to a more sta­ble and flex­i­ble busi­ness model. Instead of upgrad­ing to a new set of tools every two years, design­ers and devel­op­ers will get their tools from the Creative Cloud, a subscription-based ser­vice that deliv­ers the full suite of Adobe tools to con­tent cre­ators with updates that aren't tied to a major revi­sion release sched­ule. The sub­scrip­tion model deliv­ers always-up-to-date tools and frees Adobe from its depen­dency on a fresh cash infu­sion every two years.
Flash and

HTML5

: Why Does Apple Care?
Though Apple argues that Flash is unsta­ble and requires too much proces­sor power, skep­tics counter that Apple wants to keep ani­ma­tion and rich inter­ac­tiv­ity con­fined to Apps sold exclu­sively through their own App store. Why? Flash empow­ers con­tent devel­op­ers to deliver all the graphic splen­dor and tech­ni­cal sophis­ti­ca­tion of a mobile appli­ca­tion inside the browser. That pro­vides a con­duit through which com­pet­ing alter­na­tives to Apple's own soft­ware offer­ings (like iTunes) can be deployed, and it offers devel­op­ers a means of dis­tri­b­u­tion that bypasses Apple's 30% com­mis­sion and the require­ment to have Apple offi­cially approve their con­tent. It makes the free browser side of the iOS plat­form poten­tially as engag­ing as the App side. Apple has enjoyed an exclu­sive "gated com­mu­nity" in an oth­er­wise open Internet. Now the gates are being pushed in by the very stan­dards they accuse Adobe of fail­ing to support.
Flash Without a Plug-in: Too Good to Be True?
The enhance­ment of HTML5 to deliver the full gamut of Flash capa­bil­i­ties will likely take time. Adobe's drop­ping of only mobile Flash Player devel­op­ment sug­gests we'll see a good sub­set of Flash's capa­bil­i­ties avail­able to mobile plat­forms but there will likely be lim­i­ta­tions. For desk­top browsers, Adobe is con­tin­u­ing to bank on the Flash plug-in to cre­ate rich web expe­ri­ences. But FlasHTML5 may offer enough fea­tures to sat­isfy many con­tent devel­op­ers. If that's the case, Adobe will have to push hard to keep any ver­sion of Flash Player rel­e­vant. I sus­pect they know that and are rely­ing on tech­nolo­gies they already have in their inno­va­tion pipeline to stay ahead of devel­op­ers as they switch their focus to standards-based deliv­ery technologies.
Here's one more video that includes pre­views of Flash CS6 and InDesign CS6 along with a pretty clear state­ment of the role Adobe envi­sions for Flash Player going for­ward.

Dead is Dead
I get annoyed when­ever some­one says Flash or some other tech­nol­ogy is "dead." Even Microsoft's Silverlight still has a pulse. MySpace isn't "dead," either (though it admit­tedly smells funny). Nothing hap­pened when high-priced con­sul­tants warned of global sys­tem fail­ures because of Y2K. I still don't have a paper­less office. Hypochondria and hys­te­ria make poor tools for pre­dict­ing the future. Though the media have been plan­ning Flash's funeral for years, it's pre­ma­ture to start ring­ing bells and send­ing flow­ers to Adobe. Flash isn't dead—it is just get­ting ready to leave its body. Soon it will be every­where at once—on your eBook reader, on your desk­top and even on your iPhone.