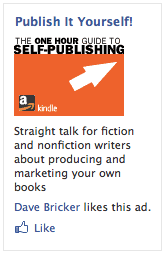 For this campaign, I'm running two Facebook ads. One points to this website and the other directly to Amazon. That's the only difference, but I'm curious to see which approach gives me more conversions from click to customer.
Initially, I'll be adjusting my bid per click to ensure I get a reasonable number of impressions. Currently, it's well below the suggested bid, so we'll see how it goes.
I'll be adding the results to this page after the first month of advertising.

As you can see, $2.00 for 3 clicks in a month seems like a waste of time. I pulled the ad