This page will track results of Facebook Advertising for Fiction offerings.
Nonfiction results for The One Hour Guide to Self-Publishing will be published a month after the book is released in September, 2010.
Currently shown is a month of tracking results for my novel, The Dance, and four variations of an ad targeted to various interest groups, followed by details and statistics for the most successful ad. The ad budget is $3.00/day and the maximum bid per-click on Facebook's auction system is $1.00.
After Month 1, the Facebook stats show 139 click-throughs while the Amazon stats show 236 product links. This suggests that 59% of the traffic to the book's Amazon listing comes from Facebook while 41% either comes from the book's site or from keyword searches on Amazon.
Conclusion: Facebook is driving traffic to Amazon at a cost of $.57 per click, but viewers are only purchasing at a rate of 1.63%.
Pros: Exposure to almost a half-million people
Cons: Expense outweighs income
Variables to consider: This is the first month of an ad campaign and confidence in an independent author may grow with repeat exposure. Also, this novel is not very topical. Words of fiction that cater to audiences interested in more popular themes may be easier to target and may produce different results.
After this one month campaign, I canceled all but the one ad that was really pulling, lowered the maximum budget to $2.00/day and the bid to $.33 just to maintain a presence. I'll follow up with results next month.
---
Now, let's look at month 2.
I dropped my budget to $2.00/day and dropped my bid to $.33 but still got a decent number of impressions. Clickthroughs generally used up the budget until the last week of the campaign. You can see the dropoff on the graph at the very end that suggests that possibly, anyone in my targeted groups who might be interested has already clicked the ad.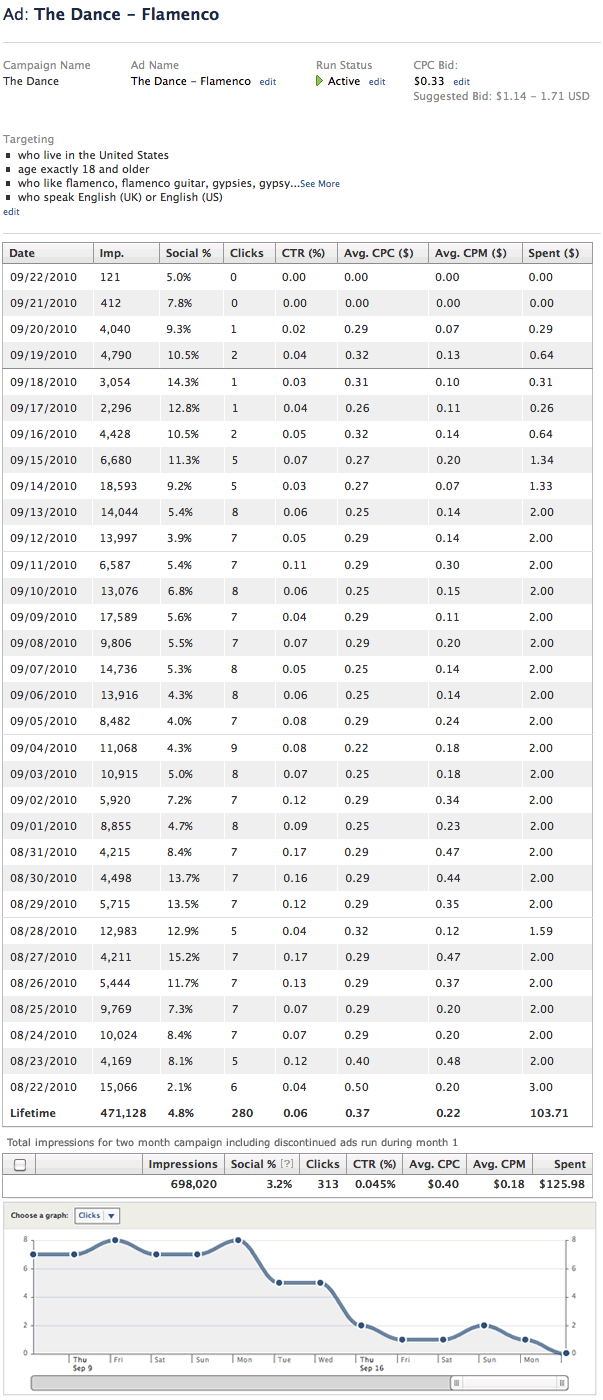 I spent a total of $125.98 for 698,020 impressions and 313 clicks that translated into about 14 paperback book sales and 6 kindle sales—not quite a break-even proposition, though most of the transactions occurred in September.
What does this suggest?
1. Your bid doesn't have to be in the suggested range to generate a decent number of ad impressions.
2. More conversions towards the end of the campaign suggests that familiarity breeds comfort. If the ad stays visible for a longer duration, perhaps it has more trust factor? Perhaps some people clicked the ad several times before purchasing?
3. The dropoff in clicks at the end of the month (see the graph) suggests there may be a saturation point for a given target. Next month will tell. The number of impressions is also down, probably as a result of the lack of clicks so we'll see if the ad can recover.
4. What's unknown is the value of exposing my name as a writer to almost 700,000 people. When I launch the next novel, I may target the same group with a certain ad, just to track how any "familiarity factor" might translate into "click confidence." The real value of this campaign may prove itself over the long term with several book releases. Hopefully, there will be a "Yeah, Dave Bricker…I've heard of this author" factor. We'll see.
I'm going to leave the ad running. It's not costing me very much and it will be educational to see what happens.
In the meantime, I'm starting the Facebook campaign for The One Hour Guide to Self-Publishing, and will share the results as I have them.