Essential Absurdities Site Review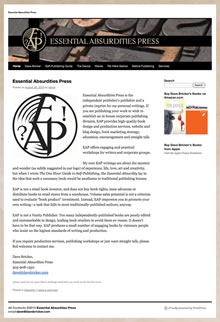 My own imprint, Essential Absurdities Press got a favorable review from Angela Atkinson at The Practical Freelance Writer's Guide to Author Websites.
Angela makes good suggestions, most of which (e.g. the RSS Feed and email subscription form) have been implemented here on the site for The One Hour Guide to Self-Publishing at theworldsgreatestbook.com.
The review encourages placement of content "above the fold" or, in web terms, in the area that can be seen without scrolling. For users with (what is now considered to be) smaller monitors (1024 x 768 pixels), that means putting important content and any header graphics in the top 550 pixels of the site.
Generally, it's good advice. Whether it makes much difference for a (supposedly) educated writer audience, I don't know for certain, but the majority of writers I encounter are people who have found time in life and sufficient experience to reflect on in their mid-fifties or later. The older group is naturally more technically challenged, and I know one writer who can't get past typing her work into an email. It stands to reason that some people will be still be stymied by the scrollbar. As a web designer for many years, I've certainly found if you make something idiot-proof, the world will always build a better idiot. Yeah…, putting content "above the fold" is good advice.
As you work to build your own site, consider using The Practical Freelance Writer's Guide to Author Websites as a resource through which to survey a variety of author's offerings along with practical commentary. That guidance can make a powerful difference in how you and your work are received. Angela also offers free website evaluations (something I took advantage of before writing this article) offering concise, objective and useful critique.
I'll certainly be adding Angela and her website to my list of resources for writers.