A Web-Based Ebook About Web-Based EBooks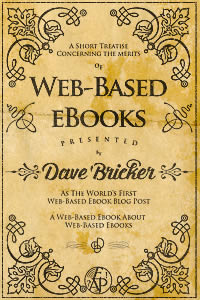 This article discusses the merits and drawbacks of HTML5 Web-Based Ebooks. It's really a blog post in eBook form, but why talk about it when you can do it? EBooks on the web are not a proposal or a theory; they're here. Web-based eBooks are beautiful, functional, easy-to-create, and available now to anyone with an up-to-date web browser.
Are web-based eBooks of value? Or is this another new channel that fragments the market and makes more work for publishers? Every eBook format has advantages and disadvantages. Determining which eBook format(s) are right for you depend(s) on your content, publishing goals, and standards. Leverage popular (ePub) formats to take advantage of the widest possible distribution and easy, third-party e-commerce technology. Use HTML5 eBooks for better presentation, consistent support of enhanced functionality, and building relationships directly with your readers.
Click the eBook below to read it inside this post (it's short), or click the "expanding arrows" icon beneath it to read full-screen. You'll need an up-to-date web browser with javascript turned on.