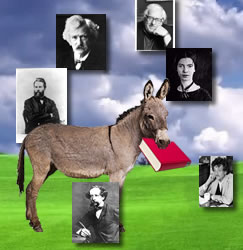 I've learned a great deal, shared a lot of information, and met some some clever folks on LinkedIn writers' forums, but no matter what topic is being discussed, some clown always posts a link to his latest book. Really? Are you kidding? Though I've written on this topic before, here are some thoughts on forum etiquette.
Forum Etiquette: Don't Change the Subject
Changing the topic of a discussion to suit your own commercial agenda is spam—bad form. Topic changing is also called "hijacking" the discussion. Some group moderators will (quite rightly) ban you for it.
Forum Etiquette: Sell Books to Readers
Though you might feel like you're among sympathetic colleagues, every single participant in writers' forum discussions either has her own books to sell or is in the process of creating one. If everyone posted links to their books, any possibility for productive discussion would die altogether. Selling books in a writers' group is like trying to sell boxed lunches at a chefs' convention. Ask questions. Offer answers. Support or challenge the contributions of other participants, but don't hawk your books in discussion forums—sell books to readers, not to writers! Continue reading →