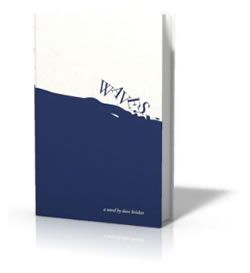 An epic sea story written by an experienced sailor, Waves is a colorful, authentic account of an extraordinary voyage.
Hanns sails a 47′ cruising trimaran to the Caribbean through a realm of transcendent beauty. Trusting instinct and nature's signs, he survives storms and reefs to find paradise threatened by the very people drawn to its magic; a poignant allegory for our times.
Waves is available exclusively in an affordable ($19.99) but elegant hardcover edition, typeset to 1920s standards, cloth-bound and foil-stamped with an attractive dust jacket.
---
"Waves is an astonishing adventure story and an intriguing free dive into the depths of human nature."
—Richard Geller, author
"More than a sea story, Waves is about the twists and turns of life—very real—
a riveting adventure that puts you in the moment."
—Neal Petersen,
adventurer, author & solo circumnavigator
Preview Waves in flipbook form here.