Join the World's Greatest Book Email List!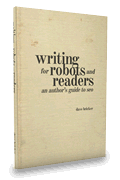 Receive "Straight Talk" articles and videos about writing, publishing, and book design. Learn what it takes to publish a professional quality book.
Subscribe today to get my free eBook, Writing for Robots and Readers: An Author's Guide to Writing for SEO. Learn to write content that can be easily found by search engines.