Book Distributors: What's in it for Publishers?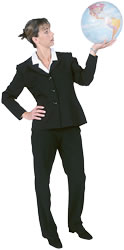 There is a direct relationship between the number of sales you can expect from a book distributor and the value-added services they provide to publishers and readers. Publishers are best served to ally themselves with book distributors that do the most to earn their sales commissions and inspire customer loyalty. What do they offer in exchange for their cut?
Brick and mortar retailers generally demand 50% or higher commissions from publishers and therefore offer decreasing value. The idea that book retailers should make more money than writers and publishers do for wedging a tiny piece of merchandise spine-out on a shelf full of competing products is absurd, but the state of retail bookstores tells its own story. Publishers and readers have already switched en masse to online book distributors. Some physical retailers do sell eBooks, but it's hard to justify going to a physical bookstore to buy one when you can sample books, read reviews and purchase them online. Selling eBooks at a bookstore is like selling DVDs of a stage performance at the box office.
Moreover, bookstores' 50% commission structure prices the majority of independent publishers out of the market. Physical bookstores may be able to survive for a while on the offerings of big publishers, but only at the expense of becoming increasingly irrelevant to what's really happening in the world of books. Most likely, it will be the big publishers who jump ship first to leverage the advantages and decreased risks of print-on-demand (POD) production and self-distribution.
Notably, in the online space, there is little difference between book distributors and book retailers; the terms are used interchangeably. Behaviorally, some vendors favor traditional distribution—keeping shelves supplied with product—while others have adapted and become effective salesmen. Welcome to the world of the distributailer. Can you hear Charles Darwin laughing?
An analysis of the changed publishing ecosystem offers insights into why some book distributors are more effective than others.
Shipping and Sales Tax directly affect prices. Buying a physical book from a physical bookstore means the transaction is subject to local sales tax, but not to shipping costs. Online sales are subject to shipping costs but not to tax. In the case of a low-cost item like a single book, the tax will cost less than the shipping (if we don't factor in the costs of fuel and time to go buy the book), but online retailers have been clever about reducing or hiding shipping fees, closing the gap on their brick and mortar competitors.
Paper Books are not dead, in spite of production and shipping costs. The ability to sell physical books at competitive prices gives online retailers a definite advantage because there are still large audiences for paper books. Bookstores that can't serve this audience are handicapped. Importantly, this suggests a viable examination of the publishing ecosystem must include books made of both pixels and paper.
Book reviews are important sales generators. In this respect, one advantage eBooks have is a direct connection between the point of purchase and the means of consumption. In other words, you can finish an eBook and click directly to where you bought it to post a review. Readers of paper books must switch media to post their comments, something many of them simply won't get around to.
Selection is another important criterion. Amazon offers over seven million unique book products. The average big bookstore carries 80,000 books—and that's the total quantity, not the number of unique volumes.
Sales results provide the most cogent criteria for judging distributors. Amazon sells the most of my books, followed by Barnes and Noble. I get a trickle of royalties from Google. In the year or so I've been listed with them, the Apple iBookstore has sold three eBooks for me.
Online book distributors all provide comparable ease-of-shopping, but the auxiliary marketing services they offer correlate clearly with the sales results they achieve.
Comparing Book Distributors
I distribute both paper books and eBooks through Amazon and Barnes and Noble, and eBooks through the Apple iBookstore and Google Books. These vendors take 30% sales commissions for eBook sales (though Amazon does take 70% commissions in some regions). Online sales commissions for paper books range from 20%–50% of the cover price. As a wholesaler, what I get in exchange for giving up almost a third of my pie is an important consideration.
Amazon.com offers, by far, the most robust set of value-added features for publishers and readers. Readers can choose between eBooks and paper books with options to purchase used copies as they're available. Uniquely, Amazon provides publishers with "author pages" where they can add photos, notes about their books (and other offerings), a professional biography and an RSS feed from their blogs. A "look inside this book" option allows readers to peruse a limited number of pages of a book based on a publisher-uploaded PDF. Amazon Prime allows users to elect free two-day shipping for a flat $79 annual fee (or one-day shipping for $3.95), and that service comes bundled with a huge selection of free video content. That gives Amazon an edge with paper book costs, and allows consumers to buy anything else they want under the same terms. Amazon's "all you can eat" menu challenges consumers to get the most out of their annual fee; once it's paid, shipping is "free." Because they're the world's most popular bookseller, Amazon listings also attract the highest number of customer reviews.
Barnes and Noble's Nook Store performs second on my list of book distributors. It offers both physical books and eBooks, and a place for reader reviews, but in spite of large numbers of reviews of my books being posted on Amazon, nobody has bothered to post a single one on the B&N site. There are no author pages. There's no "look inside this book" option. As a source for physical books, B&N does attract non-eBook readers who won't likely shop with Google or Apple, but the lack of a book preview and scarcity of reviews make it more difficult to evaluate books before making a purchase.
The Google EBookstore sells less than one of my eBooks per month. They do offer book previews and a place for user reviews. They don't offer author pages or other perks provided by Amazon. I suspect many readers are more interested in Google's free offerings than in actually shopping there. Amazon has already gotten competitive by developing their own library of over two million free, out-of-copyright books.
The Apple iBookstore offers an attractive interface and a place for user reviews, but little more. It's functionality is roughly equivalent to that of Google Books. Any computer with iTunes can search the iBookstore. Abridged sample books can be sent to iOS devices, but viewing iBooks on your computer or on anything other than an iPhone, iPad or iPod is not allowed. It's difficult to say whether the majority of eBook consumers are locked out of Apple's private media Universe or if Apple users are locked in, but both the platform and the retail channel have serious restrictions attached to their use. If you want in, you have to buy one of Apple's mobile devices.
Amazon

Barnes & Noble

Google Books

Apple iBookstore

Paper Book  Commission

20-50%
20-50%
eBooks only
eBooks only

eBook Commission

30%
(70% in some regions)
30%
30%
30%

Book Previews

yes
no
yes
Only on iOS devices

Reviews

yes
yes
yes
yes

Author Pages

yes
no
no
no

Offers non-media items

yes
no
no
no

Offers used books and alternate vendors

yes
yes
Yes, but only for book searches outside of the Google eBookstore
no
Though all these book distributors take the same 30% sales commission, only Amazon has made any real effort to cultivate relationships with publishers of all sizes, including indie publishers, and Amazon has taken pains to ensure the relationship isn't all about them. They realize that providing tools for publishers to promote their books and tools for readers to explore them benefits everyone in the distribution chain from writer to retailer.
With millions of paper books still being produced, eBook-only retailers are early in the game. The ability to sell physical books still provides an important competitive advantage, and the jury is out on whether long-term interest in paper books will ever decline below a certain level.
The old model where retailers win commissions simply by stocking products has failed. It might have made some sense back when physical books had to compete for bookstore shelf-space, but given the ease and negligible cost with which a book can be added to an online catalog, paying 30% of cover price for a simple listing is a bad deal for authors and publishers. In a world where the publishing climate has already changed, only those distributors willing to work for sales commissions will be perceived as valuable business partners.