Part 2 of Fundamentals of Book Design explores opti­cal mar­gins, para­graph for­mat­ting and spaces.
Read about mar­gins, lay­out and lead­ing in Part 1.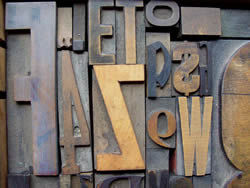 The self-publishing rev­o­lu­tion is (aside from the Internet) the great­est thing ever to hap­pen to free­dom of speech and expres­sion, but self-published books are widely stig­ma­tized as poorly pro­duced. Why? Because they almost uni­ver­sally are. Moreover, the declin­ing stan­dards of main­stream pub­lish­ers do not jus­tify the medi­oc­rity of self-publishers. In fact, self-publishers will find a com­pet­i­tive advan­tage in apply­ing basic book design prin­ci­ples to pro­duce books that are com­fort­able to read and pleas­ing to the eye.
After all those hours writ­ing and edit­ing, why not pro­duce a book that con­veys your good taste, atten­tion to detail and care? Here are some sim­ple but pow­er­ful book design tips to help your book achieve excellence.
Book Design Tip: Optical Margins
Optical mar­gins are one thing you won't get your word proces­sor to do, but with a ded­i­cated type­set­ting pro­gram like Adobe InDesign, you can improve the look of your book design with a sim­ple but under­used feature.
Let's look at an ordi­nary block of text (from Oliver Twist by Charles Dickens).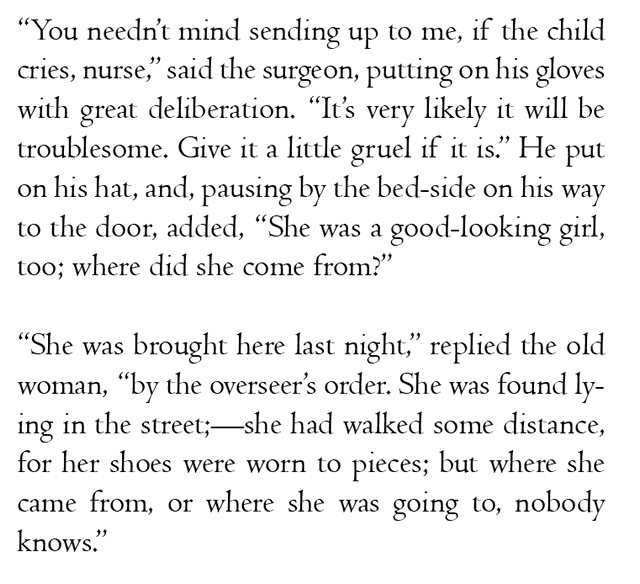 At first glance, it looks leg­i­ble enough, but on closer inspec­tion, the text looks awk­ward wher­ever there's a punc­tu­a­tion mark at the begin­ning or the end of a line. Those places are high­lighted in the next figure: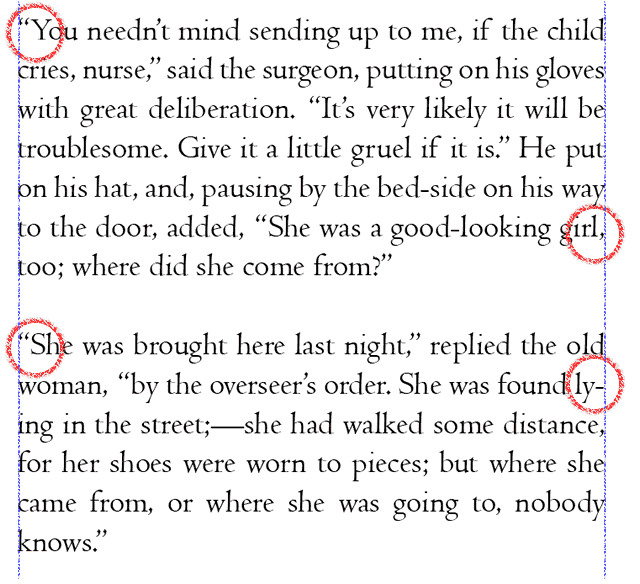 Notice how all the punc­tu­a­tion stays strictly within the bound­aries of the text box. In longer blocks of text, this cre­ates notice­ably ragged edges. In cases where there are quo­ta­tion marks at the begin­ning of a line, the appear­ance of an indented new para­graph is cre­ated whether that's the inten­tion or not.
What we need to improve our book design is opti­cal mar­gins; mar­gins that line up the let­ters while let­ting the punc­tu­a­tion hang over the edges. Though this tech­ni­cally intro­duces less even mar­gins, the tiny punc­tu­a­tion marks use less ink than the let­ter­forms and are more or less invis­i­ble. When we turn opti­cal mar­gins on, the effect cre­ates an illu­sion of straight, tidy margins.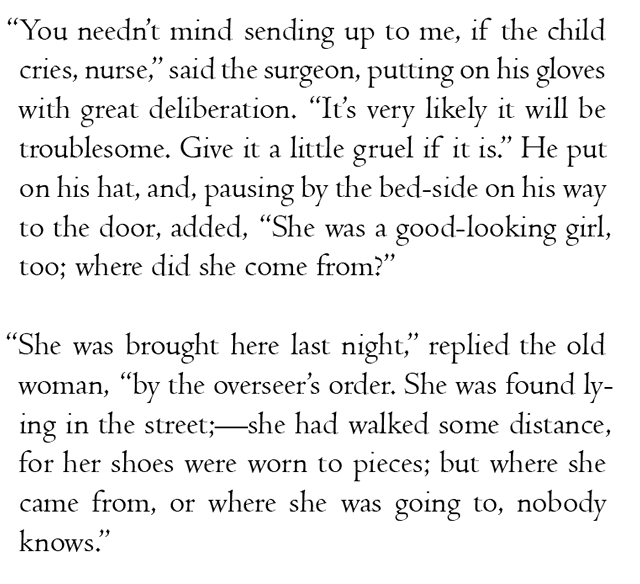 This looks straighter, but take a look at the punc­tu­a­tion with the guides turned on: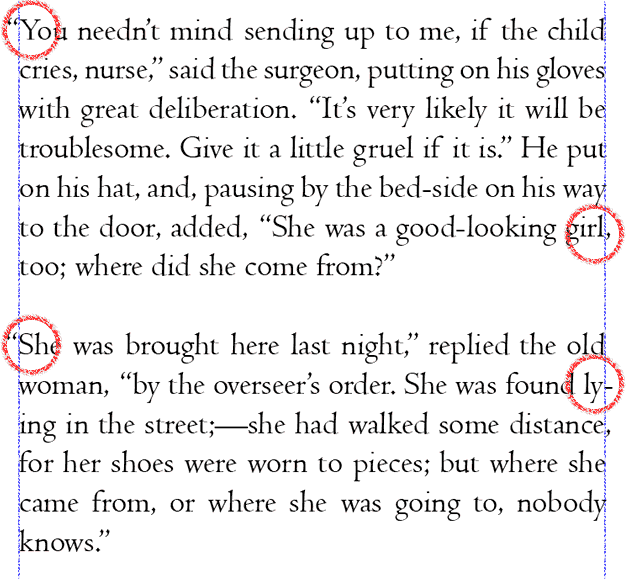 The hang­ing punc­tu­a­tion makes the edges of the text look straighter even though we have pushed por­tions of it past the guides we might intu­itively rely on to pro­duce "straight text." It looks straighter even though it's not. Optical mar­gins make bet­ter book design. Here are some blown up examples: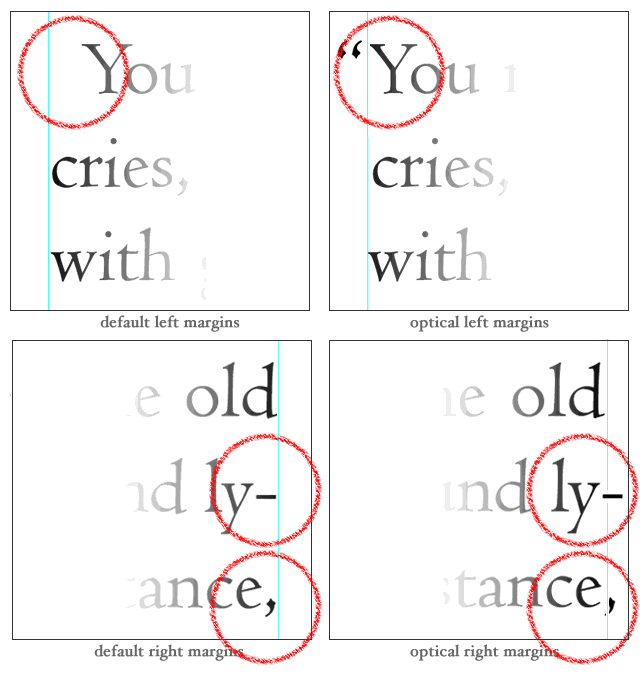 To turn on opti­cal mar­gins in Adobe InDesign, sim­ply select any text box you wish to apply them to and then open up the (not very intu­itively named) "Story" dia­log box. You can adjust the degree to which the punc­tu­a­tion hangs over the edges of the text box to match to match the size of your text or suit your own preferences.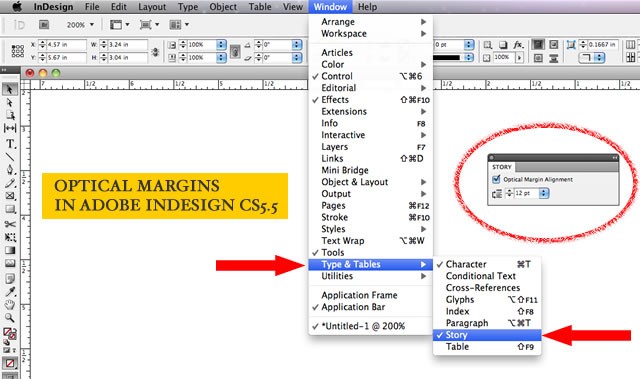 Book Design Tip: Paragraph Indents
One of the first things I do when I'm given a man­u­script to type­set is do a global find and replace to make sure none of the para­graphs begins with a tab (I search for para­graph breaks fol­lowed by a tab and then replace them with only para­graph breaks). Putting a tab at the begin­ning of a para­graph is a holdover from type­writer days when that was the eas­i­est way to put a half-inch indent at the begin­ning of a new para­graph. There are worse ways to indent a para­graph, but we'll get to those shortly.
For some time after the intro­duc­tion of word proces­sors, attempts were made to "legit­imize" them by get­ting them to mimic the look of a type­writer. Half-inch tabs and indents are a legacy of this and sadly, both the Chicago Manual of Style (CMOS) and the Modern Language Association (MLA) still spec­ify half-inch para­graph indents in their style guides for man­u­scripts. It's a recipe for ugly aca­d­e­mic papers that ignores basic, long-standing prin­ci­ples of book design.
Typesetters have tra­di­tion­ally used an em as the stan­dard size for a para­graph indent. What's an em? Back in the days of hot metal type­set­ting, an em was lit­er­ally the width of the let­ter "m" in a given type­face and type size. With dig­i­tal type, there's no need to mea­sure the let­ter "m." Simply use a mea­sure­ment equiv­a­lent to the point size of your type. If the text is set in 12-point type, use a 12 point indent. A point is 1/72nd of an inch so with 12-point type, use 12/72nd or 1/6th of an inch. Or, you can use your eye to adjust the para­graph indent to suit your tastes. I often let mine vary from a dig­i­tal "em," because every type­face has char­ac­ters of dif­fer­ent widths and pro­por­tions, even at the same point size. As always, when in doubt, defer to a trained eye. If stranded on a desert island, use a hair shy of 1/8-inch.
To adjust the para­graph indent (you can—and should—do this in your word proces­sor, too), high­light your text and use the tab ruler.
In Adobe Indesign, use command/control – shift – T to bring up the tab rulers.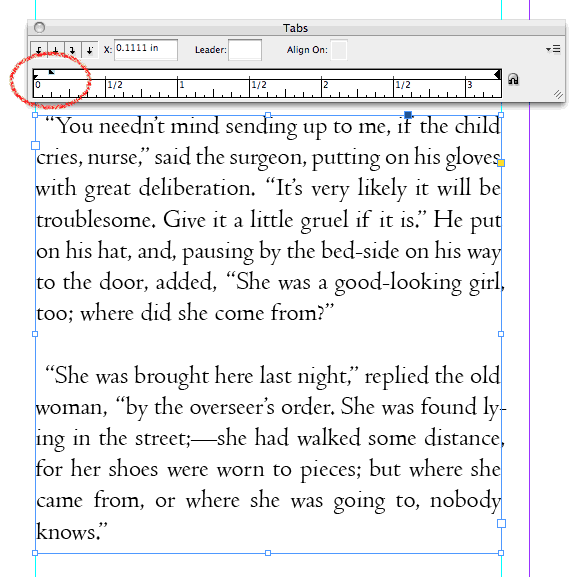 Notice that the right-facing arrow at the left side of the ruler (high­lighted in the fig­ure) is split in two. The top half of the arrow rep­re­sents the first line of the para­graph. The bot­tom half of the arrow rep­re­sents the rest of the para­graph. Slide the top half to the right to set the size of the para­graph indent. Easy!
Book Design Tip: Spaces
Invisible as they may be, from a typesetter's per­spec­tive, spaces are prob­a­bly the most abused char­ac­ter in book design. An explo­ration of how spaces were treated by type­writ­ers and metal type­set­ters reveals their impor­tance and the prob­lems asso­ci­ated with them.
Back in the days of type­writ­ers, mono­spaced type­faces were used; a let­ter "i" was the same width as a "w." This hap­pened because each key­stroke caused a gear in the type­writer to advance the car­riage one gear tooth to the left. Letter spac­ing was absolutely con­sis­tent, but it appeared absolutely incon­sis­tent because of the rel­a­tive shapes of adja­cent letters.

In print­ing, gaps occurred between let­ters because the let­ters were carved or cast into wood or metal blocks. Here's a wood type sam­ple from David Wolske's LetterPress Daily.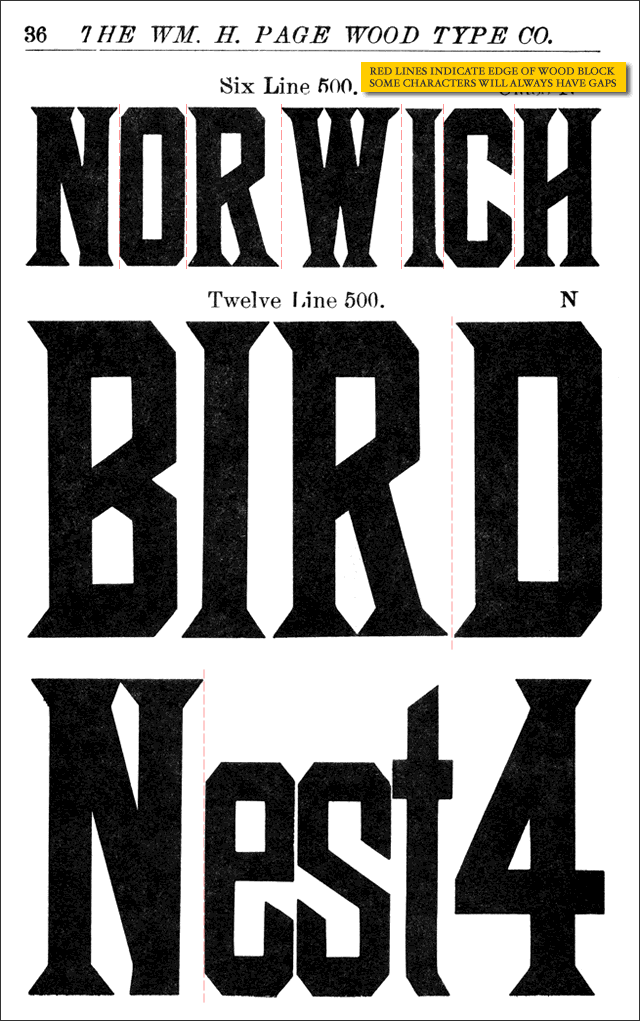 Notice the gaps around the "W" in "NORWICH" and between the "R" and the "D" in "BIRD." Of course, typog­ra­phers like Wolske and Letterpress print­ers like Hatch Show Print will argue that the impre­cise spac­ing of wood type is part of what gives it its charm. I agree with them fanat­i­cally, though con­tem­po­rary Letterpress print­ing has more to do with fine art than with pro­duc­ing clean, leg­i­ble text for book design. Interestingly, though design­ers have access to dig­i­tal repro­duc­tions of wood type­faces, they almost always fail to repro­duce the spac­ing idio­syn­cra­cies of Letterpress print­ing that give the work its authenticity.
Book Design Tip: Kill the Double Space
Don't ever use con­sec­u­tive spaces in book design—ever.
Ever!
Monospaced type­writ­ers had enough prob­lems with spac­ing; added to their dif­fi­cul­ties is the con­ven­tion to use a dou­ble space after a period. But with the excep­tion of inten­tion­ally mono­spaced fonts like Courier (used most often today to des­ig­nate com­puter code), dig­i­tal type­faces are pro­por­tion­ally spaced. Digital fonts con­tain inter­nal kern­ing (let­ter spac­ing) tables that define how close one let­ter should be to another. This makes for much more ele­gant type. An "A" can nest inside the com­ple­men­tary angle of a "W," some­thing that was impos­si­ble back in the days when each let­ter sat on its own block of wood or lead. This means every let­ter "knows" how close it should be to the char­ac­ter next to it. Simply put, a period already has just the right amount of space to the right of it. (CMOS and MLA now spec­ify a sin­gle space after a period in their style manuals).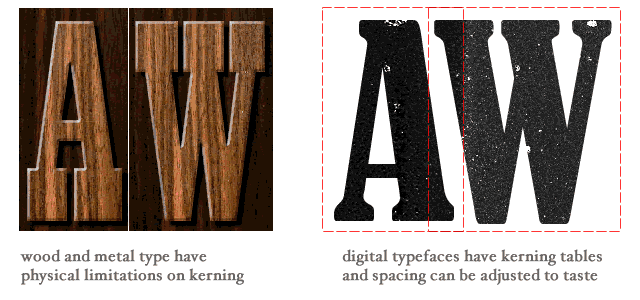 One of the other first things I do before I type­set a man­u­script is con­vert dou­ble spaces to sin­gle spaces over and over until there are no more con­sec­u­tive spaces left in the doc­u­ment. This solves—or at least reveals—several com­mon book design problems.
It gets rid of dou­ble spaces after peri­ods, elim­i­nat­ing a pos­si­ble source of white "rivers" run­ning through the type.
Using a tab before the first line of a para­graph is bad enough form, but some writ­ers use five con­sec­u­tive spaces instead. Removing the pre­ced­ing spaces from para­graphs allows the type­set­ter to con­trol para­graph indents pre­cisely using the tab rulers.
Some writ­ers attempt to cen­ter or oth­er­wise adjust the hor­i­zon­tal posi­tion of por­tions of the text by using con­sec­u­tive spaces. This may look fine on an 8 ½ x 11″ man­u­script, but when you set up a 4″ x 5″ book block on a 6″ x 9″ page, the con­sec­u­tive spaces will cause the line breaks to change com­pletely, utterly wreck­ing the effect the writer is hop­ing to achieve. Writers who want to request spe­cial for­mat­ting need only send a note to their book designer.
Typesetting for Better Book Design

The goal for dig­i­tal type­set­ters is to pre­serve the warmth, charm and craft of hot metal type while lever­ag­ing the advan­tages of today's tech­nol­ogy. By com­bin­ing an under­stand­ing of the his­tory of print­ing and the typesetter's craft with knowl­edge of how to work with type­set­ting soft­ware, things are pos­si­ble in book design that print­ers could only fan­ta­size about a few decades ago.
As a self-publishing advo­cate, I like the idea that the tools for set­ting ele­gant type are within reach of the aver­age per­son, but, as a book design edu­ca­tor, I cringe when­ever some­one type­sets their own book with Microsoft Word. The intri­ca­cies of type­set­ting are clearly beyond the scope of most writ­ers' knowl­edge and it's easy to get duped by the "pretty good" text dis­played by a word proces­sor. Like a good edi­tor, an edu­cated type­set­ter is one of those nec­es­sary expenses that always pro­duce a bet­ter book design. In cases where bud­get or busi­ness oppor­tu­nity limit a book's pro­duc­tion resources, defer to a trained eye to develop some styles and stan­dards for your book before you head off on your own.
Addendum: After I posted this, Dick Margulis was kind enough to point out a few things worth men­tion­ing.

1. Kerning did exist before dig­i­tal type. It required phys­i­cal cut­ting of the let­ters with a "kern­ing saw." Now that it's easy to adjust, few typog­ra­phers bother to tweak the default kern­ing specs built into their dig­i­tal typefaces.
2. Paragraphs should either begin with an indent OR be sep­a­rated by a dou­ble line break (prefer­ably the former)—not both.
---
The com­plete Book Design Basics series:

Book Design Basics Part 1: Margins and Leading
Book Design Basics Part 2: Optical Margins, Indents and Periods
Book Design Basics Part 3: Running The Numbers
Book Design Basics Part 4: Dashes, Hyphens and Dots
Book Design Basics Part 5: Small Capitals – Avoiding Capital Offenses
Book Design Basics Part 6: Drop-caps and Initial Impressions
Book Design Basics Part 7: Use Hyphens for Justified Type
Book Design Basics Part 8: Fine Control Over Justified Type
Book Design Basics Part 9: Simulating the Appearance of Traditional Print
Book Design Basics Part 10: Page Layout: Illustrated Books and the Rule of Thirds
Book Design Basics Part 11: Book Cover Design: Moving from Screen to Printing Press