The Baker EBook Framework – EBooks as iPad Apps
(updated: originally published Nov, 2010)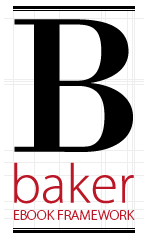 Baker is an HTML5 eBook Framework for publishing books on the Apple iPad using open web standards. It's open source, BSD licensed (which pretty much means it's free to do anything you want with it except resell it).
I haven't used Baker to publish my books yet, but I was able to open and edit sample HTML5 pages with Dreamweaver CS5 and the directions look simple enough to manage from a technical perspective with the right tools. There's no reason you couldn't use a basic text/code editor if you're willing to do some creative copy/pasting from the provided sample documents. However, to leverage the best qualities of HTML5 and CSS3, you'll want to know what you're doing.
From a marketing and distribution perspective, the Baker Ebook Framework offers a way to distribute your book as a native iPad application rather than through the iTunes bookstore as an ePub document.
The advantages? There are a lot fewer books in the app store than in the bookstore. It's another eBook distribution channel that doesn't appear to be any more involved than the others, and having your book available as an app may add some slight publishing credibility.
On the other hand, there are a lot of apps in the app store and you'll still need a solid marketing strategy to direct readers to your download yours. Same problem; different venue.
I suspect we'll be seeing more and more ways to publish to more and more eBook readers and mobile devices. Ebooks are in their infancy, and we're only beginning to see standardized formats that offer the typographical capabilities of physical books.
Whether or not it makes sense to offer your book in yet another format, offerings like Baker level the playing field and empower writers to self-publish through new platforms.
---
Update Nov. 16, 2011: I originally published this post a year ago. The Baker EBook Framework is still alive and well and on Version 3.
Its pros are that it uses standards-based HTML5 and CSS3 to create apps for the iPad. Specific instructions for book creation are available here.
The downside is that "book developers" (I have mixed feelings about that combination of words) are required to know how to build content with HTML5, CSS3 and Webkit javascript libraries. The Baker Framework is a great tool and it's ahead of the curve, but in a digital sense, it's more of a printing press than a writing or design tool.
Since Baker's introduction, the world of eBooks has stated its intention to turn toward new formats that support HTML5, CSS3 and Webkit libraries. Adobe has already announced new ePublishing tools for InDesign and it is working to deliver Flash content without the requirement of a plug-in through the same HTML5 technologies.
For the short term, the Baker eBook Framework sounds like a useful way for technically savvy publishers to push books into the Apple App Store. When the new formats and tools are available, it will likely be possible to accomplish the same tasks directly from Flash, InDesign, Dreamweaver and other popular content creation tools.
Though the new ePub3 standard will likely replace Baker's original hPub format, the Baker eBook Framework is more than a year ahead of a game being played by huge companies with massive resources. Though I see its future as uncertain, it deserves great credit for vision and innovation.