Azardi Offers ePub3 EBooks Today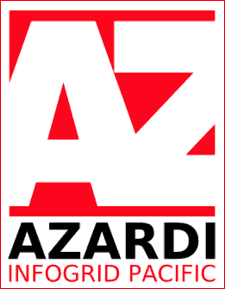 Azardi brings ePub3 eBooks to the desktop—today. Publishers wishing to experiment with new technologies can now develop eBooks that contain animation, interactivity, audio, video and other content not available in standard eBooks. Infogrid Pacific has just released Azardi version 7, desktop eReader software that supports both ePub 2 and new ePub3 eBooks. Mobile eReader devices can't display ePub3 files yet, and publishing tools aren't ready to export to them. The Azardi eBook reader expands the possibilities for a range of books and documents, including complex layouts business books, interactive training and educational content.
Downloadable desktop content packages can use a customized version of Azardi as a delivery platform; Azardi lets the end-user control all aspects of presentation and flow. Infogrid's AZD format bundles eBook content with the customized Azardi reader. It allows delivery of subscription content to the desktop such as rich and interactive courseware learning, education and training content and corporate documents that are constantly changing. An AZD file supports presentation of SWF (Flash), PDF and Silverlight modules, and works seamlessly with online resources.
Along with the Azardi reader software and a straightforward user manual, a free EPUB3 Unleashed demonstration book provides an interesting tour of ePub3's capabilities. Screen shots and descriptions of many of Azardi's features are provided below.

Azardi—ePub3 Unleashed
ePub3 Unleashed is the first in a series of demonstration and test books created to raise the expectations of publishers. The target audience is education, learning and training publishers and organizations.
ePub3 Unleashed demonstrates cost-effective delivery of content that goes beyond other eReader technologies. XHTML packaged into an ePub3  can also be delivered as a Web Site or WebApp (though Android doesn't support SVG) ePub3 Unleashed will only play in Azardi; Azardi is the only ePub3 reader available and the only one with a comprehensive interactive engine.
The eBook begins with an animated cover. The convenient table of contents shown here expands for easy access when clicked. It shows as a tiny beige tab on the other images.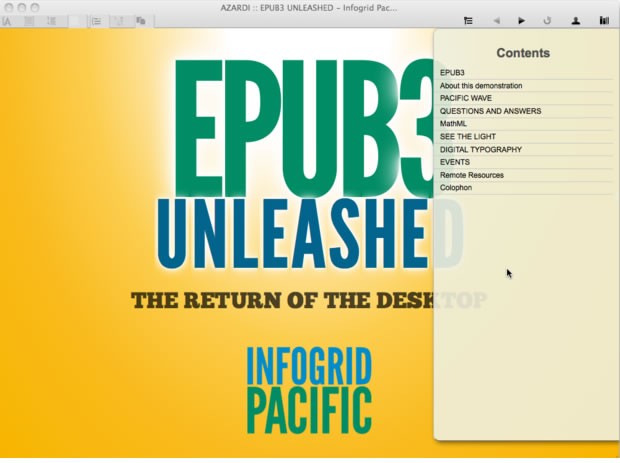 The home screen is followed by an animation  of "dancing letters" above a photographic background accompanied by music. It's unremarkable until one considers it's delivered within an ePub file using HTML5. Though it lacks the elegance of a well-crafted flash animation, it's a huge step forward for eBooks.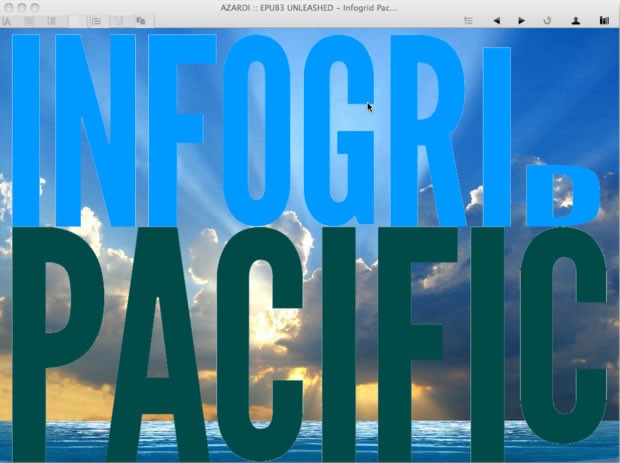 Azardi is targeted at educational publishers. ePub3 Unleashed offers several demonstrations of quizzes, fill-in-the-blank questions, drag-and-drop matching and other interactive functions useful for training and teaching.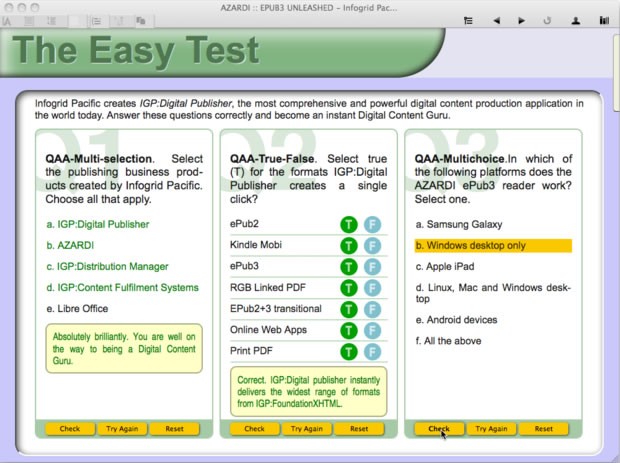 Typographic possibilities are demonstrated along with audio capability. Rudyard Kipling's If is presented in a multi-page view with an option to hear it read aloud.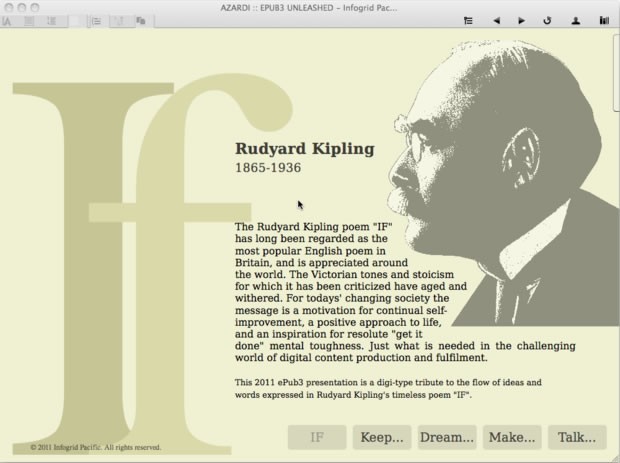 Azardi Main Features Explained
Supports both ePub3 and ePub2—open up standard eBooks as well as new ones
Fully HTML5 and CSS3 capable—though these standards are still in development, Azardi implements the same draft CSS3 standards as the Firefox web browser.
Native MathML built-in—publishers who typeset complex mathematical equations can convert LaTeX expressions to MathML. The full STIX font set (specialized for mathematical typesetting) is now installed by default and is accessed whenever the reader detects MathML properties.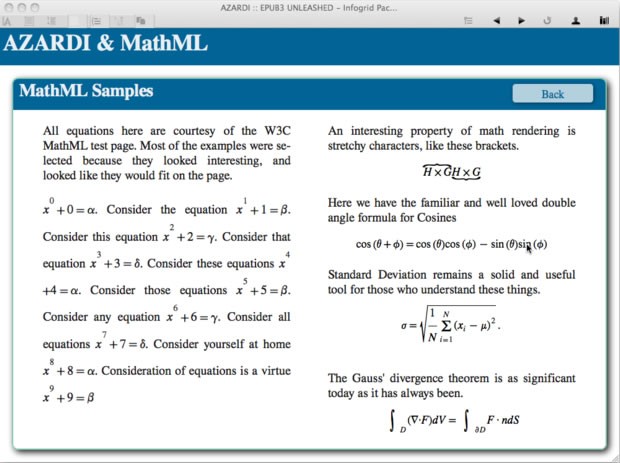 SVG built-in—Scalable Vector Graphics got left behind when Flash got popular but the format is making a comeback with HTML5. Save fast-loading vector graphics from applications like Adobe Illustrator and use them in your ePub3 files.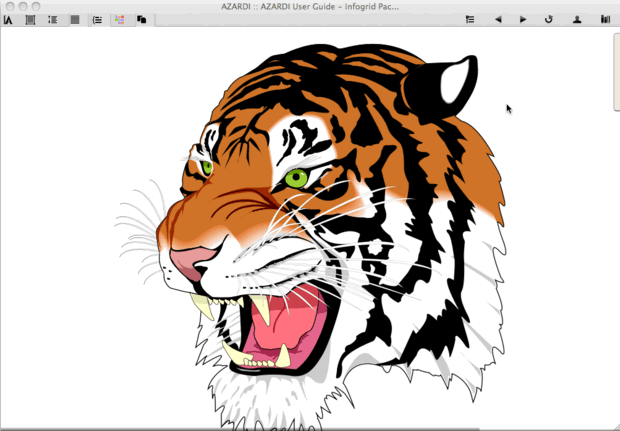 Browser Typography— OTF properties and hyphenation are supported with the -moz CSS properties. The hyphenation feature uses Mozilla CSS hyphenation (all geekspeak for draft code web developers use to format text). If you're disgusted with how ePub files completely disregard a book's original typography, those days are over. CSS3, web fonts and embeddable typefaces are game changers for book aesthetics. The example "font catalog" in ePub3 Unleashed has some formatting glitches, but it does allow you to change typefaces, styles and type sizes on the fly.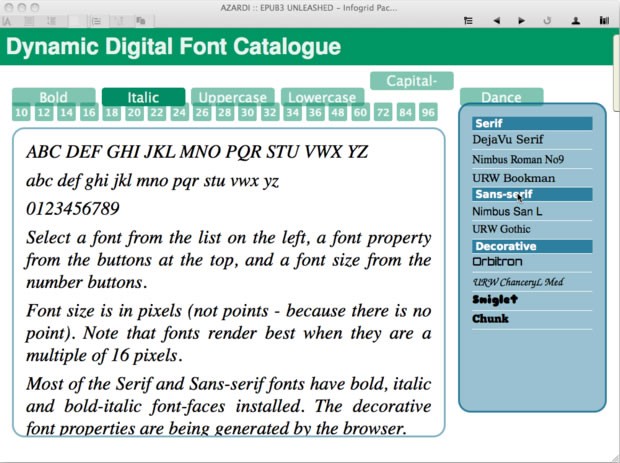 Page and flow modes—View eBooks in paginated format or as a continuous flow of content (like a long web page).
Fixed layout capable— allows the size of the presentation window to be controlled by the publisher for fixed layout pages. Pages can be set up with width and height and edge-to-edge specifications.(brief author's rant) eBooks pretty much do only one thing that the PDF format doesn't; they offer layouts that reflow to fit font sizes and page sizes. Now the industry is clamoring about the magic of "fixed layouts." Though this means we now need to hammer out miles of code to accomplish what we might otherwise accomplish with a simple "Print to PDF" command, fixed layouts are now available in ePub3 files.
Multiple simultaneous Azardi readers can be open, even on the same book.
Secure Online links—Link to a web form or other hosted resource and instead of opening it in a web browser, Azardi will display it in a secure window where the source code and other information are less accessible to hackers. This will prove especially useful when people wish to embed e-commerce links directly in eBooks. "Click here to purchase the sequel." The "feedback" link in the image below opens the form in the image that follows it.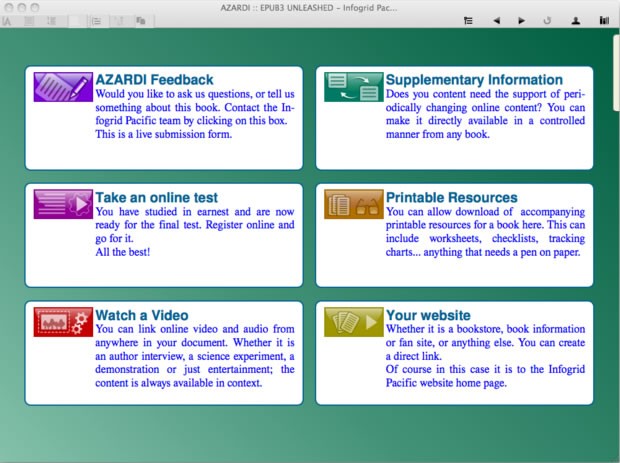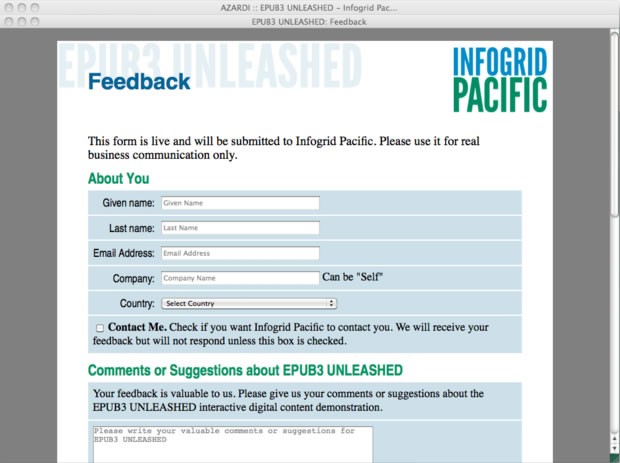 Built-in Azardi Interactive Engine—Azardi includes an interactive engine for learning and training. Instead of relying on the webkit engine that powers Safari and other browsers, Azardi has its own on-board technology (including Javascript and jQuery) for displaying interactive content within the reader.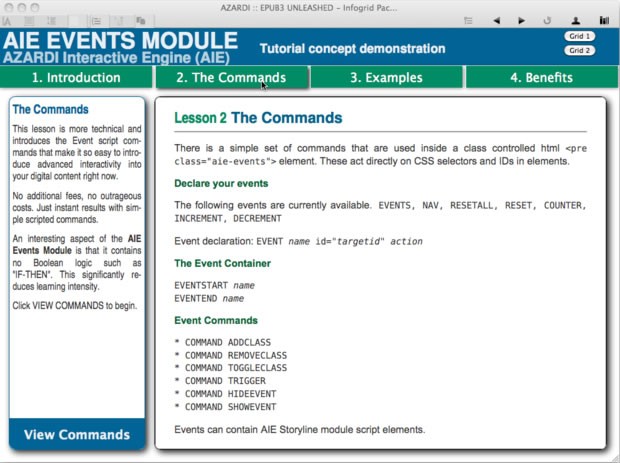 Runs on Linux, Macintosh and Windows desktops; not for mobile devices.
SVG Book Covers—Loads SVG covers without HTML if the image is presented in the OPF Manifest correctly.
A Back Button—represented by the circular arrow icon in the navigation bar, the back button enables readers to jump from one section to another and then return to the point from which they originally jumped. It works just like the Back button in your web browser.
The creation of ePub3 content is still dependent on knowledge of HTML5, Javascript, CSS3 and other code-centric technologies. InfoGrid Pacific offers Digital Publisher, a suite of innovative subscription-based publishing tools to assist, but with a basic subscription costing US$99/month, self-publishers will likely wait for updates to standard publishing tools like Adobe InDesign or contract out their eBook conversions. Adobe's new software subscription model will soon bring the cost of single applications well below the price of InfoGrid's offerings.
Infogrid is developing more ePub3 eBooks. A Flashcard book will demonstrate how easy it is to produce self-learning interactive eBooks. These special vertical content genres are important as they highlight interactive engagement over passive reading. An Adaptive and Dynamic Layout book will demonstrate that print layout metaphors do not need to be followed to make compelling image heavy books.
Conclusion
Though publishers must continue to wait for mobile eReader devices and standard development tools to catch up with HTML5-based formats like ePub3 and Amazon's KF8, Azardi is significant. Publishers wishing to experiment with interactivity, audio, video, SVG graphics and better book typography now have a useful platform for testing and viewing their work. Though we'll undoubtedly see more ePub3 reading technologies come around the corner soon, the good news is that (at least for tech-savvy publishers) ePub3 books have finally landed in the tangible world of the here and now.